Football
Leaf does not change much with Ajax in a duel with Legia
Photo: Proshots
Ajax coach Peter Bosz seems to not plan to wed afternoon to make many changes in his team for the match with Legia Warsaw in the sixteenth finals of the Europa League.
The coach gave in the last two group stage matches against Panathinaikos and Standard Liege, when Ajax is already sure of hibernation, some of the regular forces rest. The chance is small that there Thursday in Warsaw there is.
"In the group stage, we were quickly through, giving me the chance to some players rest. But these competitions we approach differently. I'm not going to change much in my team," said Bosz Wednesday at the press conference in Warsaw.
Ajax has a fit selection traveled to Poland. Only the injured Matthijs de Is missing, while purchase David Neres has not yet speelgerechtigd. Justin Kluivert is for the first time in the selection for a European competition.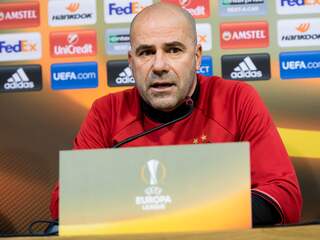 See also:
Ajax with fit selection to Poland for Europa League match with Legia
Legia Warsaw
Opponent Legia Warsaw came for the winter break in the Champions League. The Poles suffered more hard defeat against Real Madrid (5-1) and Borussia Dortmund (0-6 and 8-4), but the Leaf let are not being lead.
"Legia was classified in a tough group, but managed as a third above Sporting Lisbon to finish. That gives the potential of the team again. That experience in the Champions League, they have to take along not only against us," said Bosz.
Ajax and Legia Warsaw played in 2015 against each other in the sixteenth-finals. Ajax won the away game two years ago, with 0-3 and were in their own home with 1-0 too strong.
Bosz does not think that the two-part article from two years ago says something about this meeting. "In the meantime, many changes. I think that we should win, but that is not easy anymore. After the winter break we have in any case gained everything. We'll see how that international relate to it."
Legia Warsaw-Ajax starts Thursday night at 21.05 hrs and is led by referee Fernandez Borbalan.
View the programme in the Europa League