Leader Dumoulin expect fierce battle with rival Wellens in the final stage
Tom Dumoulin goes thanks to his second place in the sixth stage of the BinckBank Tour as a leader, the final day, and he expected to be tight ahead of Belgian Tim Wellens tooth and nail to defend.
The Limburger of Team Sunweb was there Saturday with the Belgian on twenty kilometers from the finish gone away. The two knew from the clutches of the chasing group to continue, and then Wellens in the sprint the strongest.
Dumoulin recognised that it is in the final stage, is not more warmly went with him. "I knew a few kilometers before the finish all that was left for me. I then chose to do with Tim to continue driving in the hope that he will get me there on the climbs, not would ride."
That choice turned out well, because in the wheel of the Belgian reed Dumoulin into second place. His lead over the Belgian is still one more stage to go four seconds.
"Tim was very strong today. It begins tomorrow, may be difficult enough for the direction to hold. We'll meet the fire feat."
Geraardsbergen
Know Dumoulin that he is in difficult sloteatappe to the Wall of Geraardsbergen on his team you can trust. "We are a good team here. We have here two days in a row really a good solid and we're planning ahead just defend."
With Peter Sagan won the Limburger in any case no longer have to keep. The Slovak had to deal with materiaalpech and fell away from the top of the standings. That was also true for Lars Boom, who was not strong enough after his stage win on Friday.
"If Sagan does not leak had ridden, had very different from seen", realized Dumoulin. "He is one of the strongest men in the race, but materiaalpech part of that."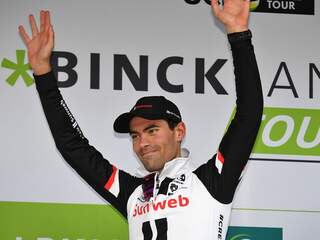 See also:
Dumoulin takes the lead in BinckBank Tour of Tree