A woman was awarded more than $100,000, after she was hit by a bowl of pasta thrown during an argument at a Connecticut restaurant.
(iStock)
A woman who was hit by a bowl of pasta during a quarrel with a man at a Connecticut restaurant was awarded with more than $100,000 by a jury in the last month.
The jury in Waterbury, Connecticut, held on 31 May in favor of Constance Koulmey, who was the unintended target of the paste is thrown by James Sweeney, a lawyer, in March 2015, according to The Connecticut Law Tribune.
Koulmey, of Woodbury, said in her lawsuit that Sweeney, of Spring Lake, N. J., threw the bowl of pasta "fra diavolo "sauce" when he was after a fight with another man at Roma's Ristorante in Oakville.
Koulmey " she said, and she walked in the direction of the exit, "when suddenly, without warning, the pasta with spicy fra diavolo "sauce" was thrown at the man and "beat her about the head and face, allowing the sauce to drip down her head on her face and in her eyes, and further causing her to fall striking her head."
The Connecticut resident said she received a brain injury resulting in a concussion and suffer from pain in the eyes, headache, and "daily severe back pain with radiating pain," among other injuries, according to a copy of the lawsuit obtained by the Law Tribune.
MAN ASKED TO LEAVE RESTAURANT BECAUSE OF 'LARGE' CROSS NECKLACE, HE CLAIMS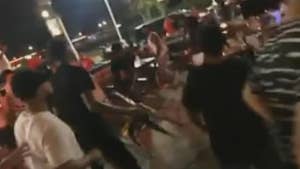 Video
Chaotic Houston bar fight caught on camera
"Of all of the aforementioned injuries, the plaintiff, Constance Koulmey, has suffered and will continue to suffer great pain and mental anguish," the suit read. "Said injuries includes the bones, glands, blood vessels, tendons, soft tissues, tendons, cartilage and nerves of the wounded parts. Some or all of the above injuries or the consequences thereof are, or are likely to have a permanent character."
Sweeney admitted to the throwing of the pasta, but denied that any injury. Criminal charges against the New Jersey residents were discharged, and his lawyer refused to comment when contacted by the Associated Press.
The Associated Press contributed to this report.
Travis Fedschun is a reporter for FoxNews.com. Follow him on Twitter @travfed