Ranomi Kromowidjojo has Sunday on the final day of the world cup short-course in the Chinese Hangzhou gold captured the 50 meter free stroke. Femke Heemskerk had to settle for the silver. In addition, packed Kromowidjojo and Heemskerk silver with the estafetteploeg on the 4×50 metres free.
The 28-year-old Kromowidjojo knew at individual 50 meters for a good start and was already in the turning point over for. The Groningen tapped in 23,19 and was almost half a second faster than Heemskerk (23,67). The bronze went to the Brazilian Etiene Medeiros (23,76).
It is the fourth world title for 'Kromo' on the . Also in 2010, 2014 and 2016, she wrote the 50-meter free hit on her name at the world cup short-course.
In Hangzhou can Kromowidjojo look back on a very successful world cup. She previously won gold in the 100 free and the 50 butterfly, and took in a total of eight medals.
Silver for estafetteploeg
Earlier on Sunday, took Kromowidjojo and Heemskerk in Hangzhou silver with the estafetteploeg on the 4×50 metres. Together with Kim Busch and Valerie the Roon, they came to a time of 1.34,55.
The swimmers of the United States were half a second faster (1.34,03) and took gold. The bronze went to Australia.
The netherlands surprised with the starting order. Kromowidjojo and Heemskerk are usually the slotzwemsters, but they opened now. That gave halfway a lead, but Busch and The Roon could not hold it. In the series, with Maaike de Waard in place of Kromowidjojo, the Netherlands had the fastest time swum.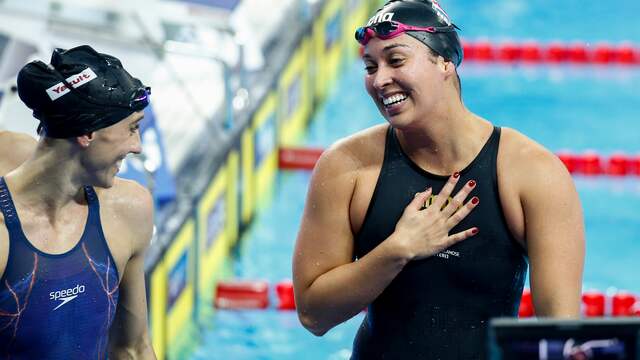 Also We should be satisfied look back
Just like Kromowidjojo has Heemskerk, a very successful world cup behind in Hangzhou. They picked up just as Kromowidjojo eight medals, but it stayed gold. There was a six times silver and twice bronze for the 31-year-old Heemskerk.
The netherlands has a total of eleven medals captured: three times gold, six silver and two times bronze.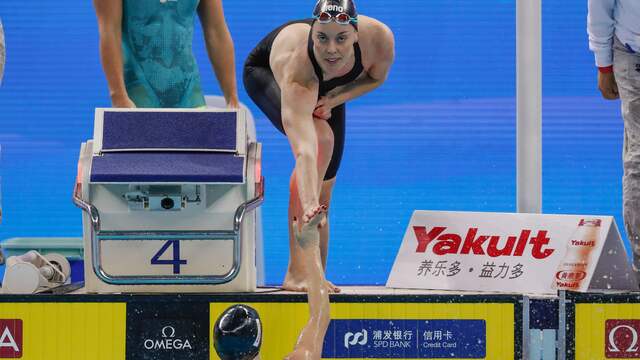 Dutch medailleoogst world cup short-course
Gold:
Ranomi Kromowidjojo (100 metres freestyle)
Ranomi Kromowidjojo (50 metres butterfly)
Ranomi Kromowidjojo (50 metres freestyle)
Silver:
Femke Heemskerk (50 metres freestyle)
Femke Heemskerk (100 metres freestyle)
Ranomi Kromowidjojo, Femke Heemskerk, Kim Bisch, Maaike de Waard (Estafettevrouwen 4×100 metres freestyle)
Ranomi Kromowidjojo, Femke Heemskerk, Kim Bisch, Valerie de Roon (Estafettevrouwen 4×50 meters free battle)
Jesse Puts, Stan Pijnenburg, Ranomi Kromowidjojo, Femke Heemskerk (Estefette mixed 50 m free stroke)
Jesse Puts, Ties Ezerman, Ranomi Kromowidjojo, Femke Heemskerk (Estefette mixed 50 metres individual medley)
Bronze:
Femke Heemskerk (200 metres freestyle)
Maaike de Waard, Kim Busch, Ranomi Kromowidjojo, Femke Heemskerk (4×50 metres individual medley)