Kromowidjojo proud of 'great time' and world cup-silver in 50 metres free
Ranomi Kromowidjojo was Sunday pride after winning silver in the 50 free at the world CHAMPIONSHIPS excellent tactical and technical skills in Budapest. The 26-year-old from Groningen is that they make themselves a good service has been proven.
"This is really great, second of the world this time. I had under 24 seconds swimming and as hard as possible to finish. This has been successful. I am very satisfied with the medal and this time," said Kromowidjojo after her race against the NIS.
The triple olympic champion tapped in Budapest in a Dutch record (23,85) and did only the Swedish world record holder Sarah Sjöström to tolerate (23,69).
For Kromowidjojo is her silver paste her fourth medal of these world CHAMPIONSHIPS. "I have a very good week here", be aware of the swimmer. "I felt good, I enjoyed it and also very hard to swim."
Silver for Kromowidjojo on the 50 meters free
Sarah Sjöström took gold.
© ANP
Ranomi Kromowidjojo was happy with silver.
© ANP
The stage of the 50 meter free.
© ANP
Sjöstrom and Kromowidjojo.
© Getty Images
Share this photo via:
Back to slideshow
Rio
Kromowidjojo takes her four medals at the world CHAMPIONSHIPS revenge for her disappointing results at the Olympic Games last year. In Rio de Janeiro, she won no medals at their home race.
"I knew that I harder could and that I now see," said Kromowidjojo. "There is for me never a doubt, after Rio, such a thing can happen. It is also not good to your head to hang down, and the rest of your life grumpy."
May was in the final of the 50 metres free in Budapest, the last race of Kromowidjojo. She swims after the world cup, Sunday, ends, still a few World Cups. Then they will, sometime in the autumn, to decide if they continue.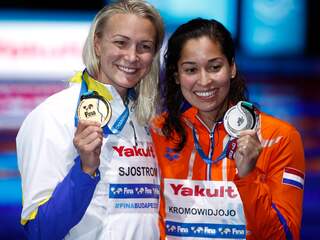 See also:
Kromowidjojo swims Dutch record for silver at the world CHAMPIONSHIPS