Ranomi Kromowidjojo is of course overjoyed with her second world title at the world CHAMPIONSHIPS kortebaanzwemmen in the Chinese Hangzhou. The Groningen had almost no better race may wish to be in the 50 butterfly.
"I swam faster than ever, and I have gold in, so I think it was a perfect race," said Kromowidjojo in a first reaction against the NIS. "My turning point and finish were good and I sit a little closer to the world record. For now I am very happy."
The 28-year-old Kromowidjojo, who last Thursday won gold in the 100 meters free, sharpness with a time of 24,47 the Dutch record that they previous month (s) had been dropped on the 50 butterfly. At the world cup in the Japanese Tokyo tapped them in 24,51.
With 24,47 she was still only slightly above the world record which is over nine years in the name of Therese Alshammar. The Swedish recorded in november 2009 at the short-course in Singapore, the global best of 24,38.
The netherlands already has eight medals in China
Kromowidojo himself at the goal for China at the world record for Alshammar to hunt. "It was in my mind. I just wanted my own race swim and hard beech, and then I would see where the ship beaches. I stand on the highest podium and the national Anthem again and all sing along."
With her record time of 24,47 let Kromowidjojo, among others, the Australian Holly Barratt (silver 24,80) and the American Kelsi Dahlia (bronze in 24,97). Maaike de Waard finished fifth.
By the gold medal, Kromowidjojo in the 50 butterfly, the Netherlands now at eight world CHAMPIONSHIP medals. The global final tournament is Tuesday, started and lasts until Sunday.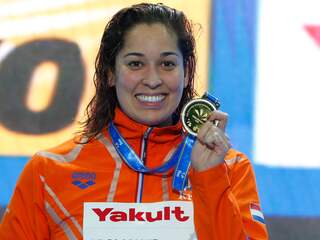 See also:
Kromowidjojo in Dutch record to world CHAMPIONSHIP gold in 50 metres butterfly