Kromowidjojo as the fourth to the world cup final, 50 free, world record Sjöström
Ranomi Kromowidjojo has Saturday and placed fourth for the final of the 50 metres freestyle at the world swimming CHAMPIONSHIPS in Hungary. In the same semi-final battle, the Swedish Sarah Sjöström set a world record.
The 26-year-old Kromowidjojo tapped behind the rapid Sjöström, who 23,67 klokte, as second in 24,20. She was overall fourth.
Sjöstrom (23) swam an eight-year-old world record from the books. The global best, was to Friday in the hands of the German Britta Steffen, who in August 2009 to 23,73 came.
In addition Kromowidjojo came Tamara van Vliet on behalf of the Netherlands in action in the semi-finals of the 50 free, but it wasn't until the final battle. With a time of 24,72 she was seventh in her semi-final and the fourteenth overall.
Earlier Saturday night captured Kromowidjojo handsome silver in the final of the 50 metres butterfly. Also when was Sjöström and away the best. Egypt's Farida Osman picked up bronze.
Day 15 of the world swimming CHAMPIONSHIPS
Ranomi Kromowidjojo swam handsome for silver in the 50 metres butterfly.
© ANP
Sarah Sjöström was by far the fastest.
© ANP
Egypt's Farida Osman picked up bronze.
© ANP
Later in the evening, placed Kromowidjojo as fourth for the final of the 50 free.
© ANP
Sjöström swam that distance and passing, a world record.
© ANP
Share this photo via:
Back to slideshow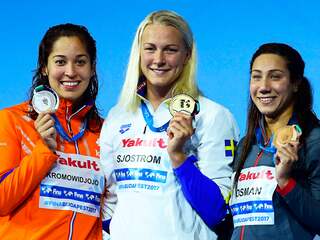 See also:
World CHAMPIONSHIPS-silver Kromowidjojo, 50 butterfly, also medal mixed relay