Football
'KRC Genk sets Stuivenberg as a trainer
Photo: Hollandse Hoogte
Albert Stuivenberg is the new head coach of KRC Genk. The 46-year-old Dutchman follows Peter Maes, who on boxing Day was discharged.
That report various media on Tuesday. Genk wants to the advent of Stuivenberg still not confirm, but does Tuesday at 11.30 am in a press conference.
For Stuivenberg is his first job as head coach of a professional club. The born Rotterdammer was for two years assistant-coach of Louis van Gaal at Manchester United.
Stuivenberg was previously active as a youth coach at the KNVB. The former player of HFC Haarlem and Telstar, was for many years coach of Orange under-17. He also had one year Young Orange under his wing.
The last Dutch head coach at Genk was Mario Leg. The current assistant coach of Fenerbahçe was from 2009 to 2011, under contract with the Belgians.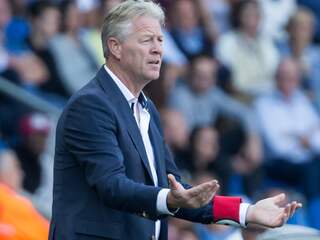 See also:
Genk put trainer Maes on the side on boxing Day
Maes
Genk decided Maes Monday to dismiss because of the disappointing results. The champion of 2011 after nineteen races on the ninth place in the league.
Genk is still active in the Europa League. In the sixteenth-finals will take the team of Stuivenberg against Romania's Astra Giurgiu.
View mode, and the program in the Jupiler Pro League