in the vicinity

Video
Kris Kobach, the lead over Gov. Jeff Colyer in the half cut
The officials confirm that vote-counting error in the Republican gubernatorial primary in Kansas.
Kansas Secretary of state Kris Kobach on Friday said he is recusing from the primary as the state chief elections official, he clings to a wafer-thin margin in the state's Republican Governor elections.
According to The Associated Press, Kobach President of the Republic leads Republican Gov. Jeff Colyer of 241 votes out of more than 311,000 votes.
Colyer has accused Kobach, County election workers-a guide "is not consistent with Kansas law," and said on Friday on Fox News that he was worried that some of the mail-counted in the ballot, as required.
Kobach, said in a letter to Colyer that he was going to be his choice-tasks, to his top Deputy.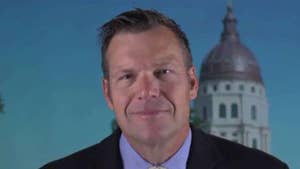 Video
Kobach: the distancing of a recount purely symbol would be 'table'
"Although, I have my duties would be discharged ethically, impartially and responsibly, I have carefully examined your request, and have decided that it is in the best interest of the citizens of Kansas, that I allow it to others, the duties of the secretary of state wrote to the completion of the 2018 primary election process," Kobach.
TRUMP-BACKED KRIS KOBACH CLAIMS A "PRELIMINARY VICTORY"
Under state law, mail-in ballots to be counted if they were postmarked Tuesday and arrive in County election offices by Friday. The secretary of state ' s office has updated totals as new figures received circles from each country.
Kobach is a conservative lightning rod, the scares even some fellow Republicans, but he may be the President of Donald Trump's closest political allies in Kansas and Trump has tweeted confirmation. Colyer, supported by the National Rifle Association and a strong opponent of abortion, try to avoid becoming the first Kansas to lose a Governor's primary since 1956. The winner will face democratic state Sen. Laura Kelly of Topeka, in the November General election.
The state, the democratic nomination went to state Sen. Laura Kelly, who defeated four other candidates in the primary. The 68-year-old served 14 years in the Kansas Senate and is one of the top Democrat on the budget Committee.
Fox News is currently rated the race as "lean Republican."
The Associated Press contributed to this report.