Kickbokser Bonjasky celebrates comeback in the ring at afscheidsgevecht Manhoef
Kickbokser Remy Bonjasky on Sunday, 29th October, his comeback in the ring. The three-time winner of the K-1 World Grand Prix, in the World Fighting League (WFL) in Almere against Melvin Manhoef.
While the fight for Bonjasky his comeback means, Manhoef that evening goodbye as kickbokser take in Almere.
Multiple world champion Bonjasky walked for some time around with plans for a comeback, but the 41-year-old " Flying Gentleman waited on the right offer. With the planned leave of Manhoef, who is the chairman of the World Fighting League, and of whom he previously three times managed to win, that moment has arrived.
"Melvin is a strong fighter, against such an opponent, I would always fight," said Bonjasky, who since 2014 no games more fighting. "I want the audience something beautiful to show. In recent years, they are not really spoiled."
Bonjasky showed last year, hinting it to want to compete against world champion Rico Verhoeven, but plans for that duel are not concrete yet. "Rico? I don't want to talk about that", responds Bonjasky. "That is a fighter of a different order. In the future, we'll see how it goes. First of all I want against Melvin fight."
Staredown Bonjasky and Manhoef
Remy Bonjasky climbs on the 29th of October for the first time since 2014 back in the ring.
© ANP
The multiple world champion K-1 celebrates its comeback for a fight with Melvin Manhoef.
© ANP
For the 41-year-old Manhoef is his farewell as kickbokser.
© ANP
"Melvin is a strong fighter, against such an opponent I always want to be fighting," said the "Flying Gentleman'.
© ANP
Share this photo via:
Back to slideshow
Manhoef
Manhoef lost last april in Rafael Carvalho. "That has me thinking," he says. "That's when I decided to say goodbye to the kickboxing. I am the sports very grateful, it made me who I am. Therefore, I have decided to have a last match to fight against Remy. I want the old days of K-1, of the Final 16, to recover."
Manhoef (41) recalled that at the last meeting incorrectly had lost to Bonjasky. "I want to be against him fighting to say goodbye. My farewell is not against one or other pancake."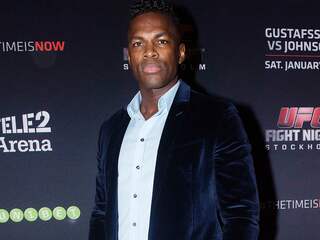 See also:
Remy Bonjasky is going to challenge kickbokser Rico Verhoeven