Klaas-Jan Huntelaar is happy that he Ajax Saturday's victory helped against FC Groningen (0-1), but has regret that he celebrate his goal, his shirt pulled up, and later on in the match, red was given.
Arbitrator Dennis Higler rebuked the experienced striker (35) with yellow for taking off his shirt and gave him just the time his second yellow card after a solid offense on Groningen defender Samir Memisevic.
"My shirt pulling was a little bit stupid. The joy went up a little to my head. I can't remember that I often have done, and I do not I think. This was a wise lesson," said Huntelaar after the game to FOX Sports.
The 76-fold international of Orange was not, incidentally, agree with his second yellow card. "I found it wasn't too bad. There are so many duels, then you're all yellow to draw. I saw Memisevic and caught him. I find that there is not so much to the hand."
Arbitrator Dennis Higler gives Klaas-Jan Huntelaar two times, yellow and therefore a red after his transgression, on Samir Memisevic. (Photo: Pro Shots)
'Also in goal not a lot going on'
Huntelaar kept the tempers in the Hitachi Capital Mobility Stadium quite busy, because at FC Groningen found him that following his departure to chelsea in violation of defender Tim Handwerker committed before he for 0-1 led.
"I found it to be no violation. I saw the ball go up, I turned and my hand was higher than that of him. There was not much going on. A valid goal," said Huntelaar, who was pleased with his winning hit.
"It was exciting, and a separate race. I had to make sure we scored and would win and in the end, fortunately, we won."
By the victory in Groningen is the advantage of Ajax on competitor PSV three points, but the Locals have a competition for credit. Sunday ADO Den Haag at 16.45 hours the opponent in the Philips Stadium.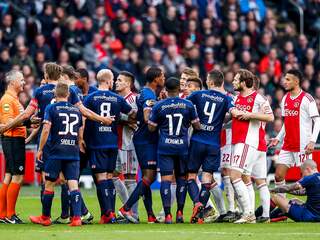 See also:
Remaining program clubs Eredivisie
View the results, the mode, and the program in the Eredivisie