Kenyans give no response to the call to strike
Photo: AFP
The largest part of the Kenyan labour force has not responded to the call of the opposition on Monday to cease. Instead of demonstrating against the re-election of president Uhuru Kenyatta and the killing of demonstrators, the majority took simply to work.
Shops have opened the doors. Cars, buses and motorcycles is determined again on the streets in Nairobi and in the western city of Kisumu. There was the past few days, barely any traffic, fearing new violence after the ballot, Tuesday.
Kenyatta defeated his rival Raila Odinga with more than difference. More than 54 percent of the voters supported him.
Odinga knows his defeat to large-scale fraud, and asked his supporters to protest the work to lay down. In Kibera, the largest slum of the capital, found he was hearing, but still less people than expected. Minibuses drove around and eateries were open, as well as telefoonzaken and financial institutions.
Kenyatta asked the opposition Monday to refrain from violent protests and complaints about the conduct of the election to the court. He exhorted the police to reticence in dealing with scattered groups of angry protesters.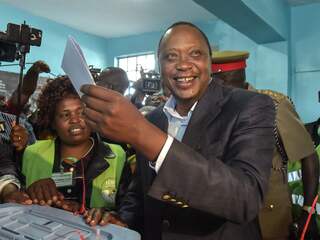 See also:
President Kenyatta wins election Kenya
Leader of the opposition Kenya calls for strike
Odinga has called for a strike on Monday to his claim on the presidency to support.
© AFP
Odinga disputed the results of the presidential election and claims that there is fraudulent.
© AFP
According to the leader of the opposition, he is himself the winner of the election.
© AFP
Four thousand people were at his speech to support him.
© AFP
Share this photo via:
Back to slideshow