Kenyan elections according to European observatieteam properly
Photo: AFP
A observatieteam of the European Union, under the leadership of Mep Marietje Schaake (D66) says that there is no evidence for large-scale or local manipulation during the Kenyan elections.
Schaake (D66) was the last period in Kenya, and loved as the head of a European mission in the holes or the elections correctly went. In a statement that this is the case. "All Kenyans should be proud of their participation in this democratic process, and should the results be respected."
The current Kenyan president Uhuru Kenyatta was on Tuesday during the elections, approximately 55 percent of the vote, compared to 45 percent for his opponent, opposition leader Raila Odinga. Odinga accused the Kenyan government on Wednesday to have tampered with the computer system in which citizens casting their vote.
The members of the European observatieteam set up the accusations to take seriously, and plead for additional investigation into the possible hack.
Restless
The observatieteam, of which a part has already arrived in June, consisted of more than one hundred and thirty people from different places in Kenya to ensure that the elections are free and transparent, took place.
The vote was largely peaceful. In the Kenyan town of Isiolo was a gang of wild waving machetes, a desk where the votes were counted. A verkiezingsofficial of the ruling Jubilee party came to life. The police shot two assailants to death. Also was there Wednesday demonstrations held in the capital city of Nairobi and in the west of the country.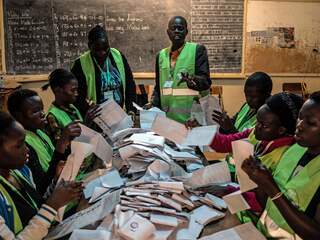 See also:
Kenyan president Kenyatta heads for new term of office
More people waiting and voting at the 17 polling stations in Kikuyu Township Primary School, as we observe… https://t.co/Np6R5cq8kO
Avatar


Author
MarietjeSchaake
Time of placing
08:28 – 08 August 2017