Keeper Bijlow let familiedroom come true with debut for Feyenoord
Photo: ProShots
With his brother Joel remained a debut in the beginning of the Season due to injuries, but goalie Justin Bijlow made Sunday for the first time, his debut in the first team of the Rotterdam.
"This means everything for my family", says Justin Bijlow Sunday after the profit on FC Twente (2-1). "We are a true 'Feyenoordfamilie', everybody is here already for many years on the tribune in The Cockpit. Great that I here, for 'my' club, may, days.
The 19-year-old inhabitant of Rotterdam may, by right, a child of the club call. Bijlow began as a boy in the amateurtak of Feyenoord.
"There were too many boys for one team and when we have a private team is set up, the F6. After half a year, I was asked for the Feyenoord youth academy."
"Initially, I was everywhere on the field, but when it turned out that we have a solid keeper needed, I said I want to do. That has up to now will be good for me."
Feyenoord with some difficulty along FC Twente
© ANP
© ProShots
© ProShots
© ProShots
© ProShots
© ProShots
© ProShots
© ProShots
Share this photo via:
Back to slideshow
Wildfire
Bijlow ranks as the third keeper in the selection, but if in the first league game of the season debut because Kenneth Vermeer (hand) and Brad Jones (back) are injured.
"This morning I heard that I had to stand. My family, I've consciously but nothing told, otherwise it was all as a wildfire went about. And I wanted to focus."
The jeugdinternational this summer not for a moment considered to be rent out to another club to gain experience.
"It is not good for Kenneth and Brad, but on this chance I was waiting for. And we deal with Feyenoord for the Champions League. There's only one thing to happen and I'm in it, so strange it can go in football."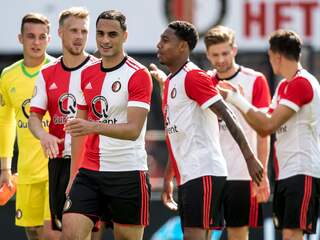 See also:
Van Bronckhorst sees room for improvement at Liverpool after narrow victory
View the results and the position in the Premier league