Jeroen Pauw has sixteen months after hurricane Irma a visit to Sint Maarten, and find the criticism that the reconstruction of the island to slowly go wrong.
"I think that we in the Netherlands are not so strict for these islands. There are there every year hurricanes. When I was in St. Maarten was, I read that Schiphol platlag because there is 3 inches of snow was expected. So, We must not pretend, we all know better," he says in the This is the news podcast NU.nl.
The presenter shows on Monday, Peacock on St. Maarten images of the reconstruction of the island on 6 september 2017, was hit by hurricane Irma. "There is a large tv collection that I have presented. I think that you must also show what that money is going."
See also:
'China wants to lose trade war' | Jeroen Pauw Sint-Maarten
Critical report of the Court of auditors
More than 0.5 billion euro by the Dutch government made available and with a tv campaign was almost 20 million euros were collected. The Court of auditors came in december with a critical report. The conclusion was that there is still but little has happened.
"You have to understand that there is not every day a train can come up with materials. It is an island. In addition, the surrounding islands are also affected. Sint Maarten is an island completely focused on tourism, so there are a few carpenters or other professionals to find. All obstacles for a rapid reconstruction," said the presenter.
"Most of the hotels on the island are restored. That is often the fastest, because it is the main source of income. Often funded by insurance or private money," says Peacock.
"Then you have the money, what we as citizens have given. The Red Cross is coordinating this. They build new roofs. This is slow, something that they say. ly due to lack of materials and skilled craftsmen."
'Residents understand that an island can quickly build'
The third flow of money is what we as the Dutch government have given. This is done through the world Bank. "They are not the fastest," says Peacock. "St. Maarten should be on the world Bank to set priorities. This is going to be the larger projects such as the hospital and the airport."
According to Pauw, the inhabitants of the island of understanding. "Of course, they will find that it takes a long time, but they don't understand that you have that island, not quickly can build up and the good must be done." In addition to the inhabitants, speaks of the Peacock is the prime minister of Sint-Maarten, Leona Marlin-Romeo, and former state secretary Frans f. weekers, on behalf of The Hague and the reconstruction progress.
Peacock on Sint Maarten is on Monday 11 February at 22.10 pm on NPO1.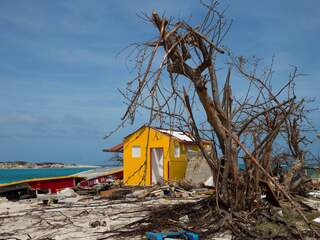 See also:
Prime minister of Sint-Maarten: 'donor funding not used due to lack of capacity'