Japanese prime minister lays wreath for victims Pearl Harborl
Photo: AFP
The Japanese prime minister shinzo Abe was 75 years after the Japanese air attack on naval base Pearl Harbor at the invitation of U.s. president Barack Obama attended the commemoration.
The meeting of the two leaders is seen as a next step in the process of reconciliation between the countries that are close partners in the field of trade and security.
The two leaders herdenkingskransen at the USS Arizona Memorial, in honor of the American soldiers who perished in the attack. She stopped then a moment of silence.
Abe is the first Japanese leader pays tribute at the memorial.
"As premier of Japan, I offer my sincere and everlasting condolences to the souls of those who here their lives have lost," he said during the ceremony.
After Obama said about the presence of Abe: "This historical gesture shows the power of reconciliation. It is a reminder that even the deepest wounds of war can make for friendship and a lasting peace."
Hiroshima
Obama had in October as the first sitting American president to visit the Japanese city of Hiroshima, where the Americans in 1945, the first atomic bomb dropped on Japan dropped. He is commemorated at the tomb, the 140,000 victims, but offered no excuses. As expected did Abe that Tuesday.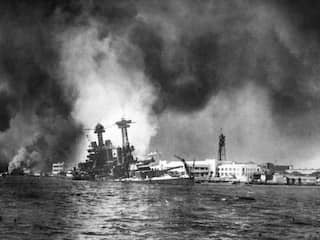 See also:
75 years after Pearl Harbor, a decisive moment in world WAR ii