Since the beginning of the Turkish offensive in Syria, which are sure to 479 people for the life to come, reported the Syrian Observatory for human Rights on Thursday. Among the victims were tens of citizens.
The incidence is particularly fatal for the Kurdish YPG-led coalition, the Syrian Democratic Forces (SDF). According to the Britain-based Observatory, 224 SDF militants were killed.
The number of people killed by the Turkey-backed rebels, is set to 184. As a result of the heavy fighting in the north-east of Syria, on the other, the 72 civilians it has come into your life. Because of the violence, approximately 200,000 residents of the area fled.
In order to have more killing to occur, to have the Kurdish fighters, Sunday, appointments will be made by the Syrian president, Bashar Al Assad. His camp is from Monday in the north-east of Syria, an area that is a long time in the hands of the SDF, in order to help them against the offensive in the region.
The Russian, Syrian, and Turkish troops are trying to the areas in which the american people have been abandoned. The Turkish offensive began soon after the American president when He decided that the army of the north-east, Syria to pick it up. Trumps foreign affairs minister, Mike Pompeo, insisted soon after that the United States doesn't have the green light had been given for the invasion.
See also:
These are the main players on the Turkish incursion into Northern Syria
Americans who are in Ankara for talks with Erdogan
The Us vice-president, Mike Pence, and Pompeo have it on Thursday in Ankara with Turkish president Recep Tayyip Erdogan's voice. The two men in History have urged that action be taken to stop it, but, according to the Turkish authorities, this effort has been in vain.
Earlier in the day, said the Turkish sources, the staff of the president to the BBC News, that's History, a letter from Home, in the garbage can had been thrown into it. On the 9th October, sent the letter Home to, inter alia, that they have "a great deal" had to be closed. Also, was threatened that he of the economy of Turkey, and to demolish it. He ended the letter by saying, "don't Be a fool."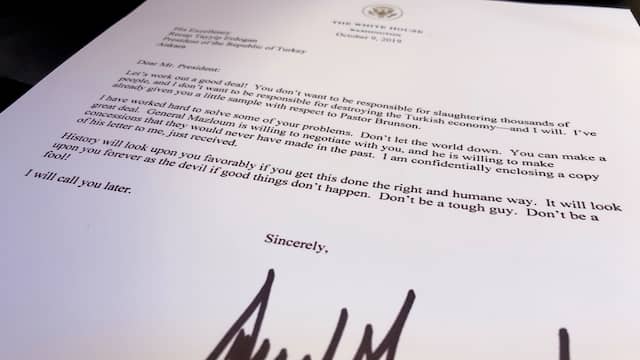 In the letter He of History. (Photo: Reuters)
Newsletter
Each and every morning to know what is at night you have missed it? Around midday an update on the most important piece of news? Subscribe to our daily newsletter.