'Iraqi troops several hundred meters away from Mosul'
Photo: AFP
Iraqi troops say only a few hundred meters away from IS-stronghold of Mosul. They would be the city "within hours" can enter.
According to Reuters, are Iraqi troops deployed in the Karama district of Mosul, "the first advance into the city itself".
Iraqi troops with allies two weeks ago, an offensive was started to Mosul, the last major Iraqi city in the hands of IS, to recapture.
The army currently focuses on the eastern bank of the Tigris, the river that runs by the northern city.
The troops on the eastern front reported last week, faster than expected ground and stopped their advance to the units to the other fronts, the time to give to tear.
Iraq is the battle for the city under more assisted by the United States and shiite militias.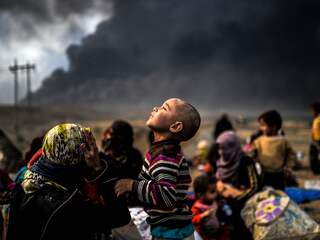 See also:
In the picture: Citizens flee from Mosul