You work up a sweat on the treadmill in a gym, or a good sprint through the forest to draw. What is better: outside sports or inside? "A small, enclosed space where many people are fanatical efforts, is not always the healthiest environment."
Whether you're inside or outside; exercise is healthy for everyone. That is not necessarily outside. Yet, according to sociologist Jolanda Maas good to reflect on the additional benefits of exercise in the open air. For example, a work-out in a natural environment is good for your physical and extra good for your mental state.
Maas examines for more than a decade the relationship between nature and health and works as a senior researcher at the section of Clinical Psychology of the Vu University Amsterdam.
Less burden of stress and anger
"Although more research is needed, current studies into the benefits of sports in a natural environment compared to see the inside of that people who in the natural surroundings are moving, the more positive emotions than people who are within the move."
According to the sociologist is evident from the studies that people have fewer problems with tension, anger and depression and that they feel more energetic and more pleasant feel after a workout.
"That we react positively to a green environment is evolutionarily determined. From the past we are used to in order to survive in a natural environment," said Maas.
"People who are in the nature of sports, keep this for longer periods of time."
Jolanda Maas, sociologist
Another advantage is the UV light that your body vitamin D from the sun, something that is essential for your bones and immune system. Also, do you train outdoors not only your limbs, but also your eye muscles; you are triggered to look around.
In addition, you can outside sports motivational work. "So let a research shows that people who in the nature movement, this last longer. Another study shows that people are more likely to indicate that they have the activity that they outside had taken once again wanted to repeat."
The ideal place for outdoor sports is what Maas is a green setting, such as a forest, park or green area. "Sunlight, fresh air and the exposure to a natural environment over a gym with fluorescent tubes."
Whether you're inside or outside: playing sports is healthy for everyone. ()
Better outdoor or indoor sports: it is for everyone personally
Frans de Jongh is longfysioloog in the Medical Spectrum Twente. Or outdoor sports is healthier than within, according to him, for everyone else.
"The a can't stand winter cold or just suffer from bright sunlight. A astmapatiënt is, in some cases, earlier benefits from a gym, because of air pollution outside, and pollen in the air."
This workout can be good practice
Fitness
Inline skating
Bootcamp
Walking
Yoga
Running
Yet, De Jongh agree that exercise in the open air in many cases healthy, if not too close to the polluted sources, such as a highway or airport. "This is the Veluwe, an ideal location, but that is not for everyone just around the corner."
Yet, according to the longfysioloog is still better to get through a busy city to run than not at all to the bank.
Air pollution on the street or in the gym
Those who live in a busy city and choose to exercise, according to the longfysioloog not necessarily better off. "In the gym is sometimes a question of air pollution. A small, enclosed space where many people are fanatical efforts, is not always the healthiest."
In addition, according to De Jongh, sometimes chemical cleaning products used that are not conducive to the air quality.
Fresh air
The ventilation-installation of sport – exercise and fitness centers that are members at the trade association EN need to be Active, according to the prescribed quality standards of their space-content at least four times per hour in the winter and six times per hour in the summer for ventilation.
In a hospital there are strict standards for air quality and also in offices are often air filtration systems to find that the indoor climate, to maintain. "But to my knowledge, there are not gyms." A window open, which is not always the solution. "Not at all, if the gym is right next to a busy intersection."
But how is the air quality in your gym or – for the thuissporter – house? It is, according to De Jongh is still not possible to use simple equipment to measure. He advises to use common sense. "You will experience a sultry temperature, or is there a strange odor, then you know that there may be a smell to the case."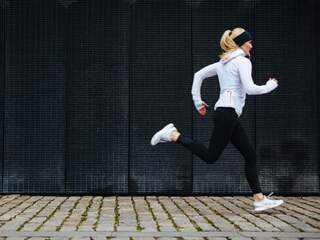 See also:
How (un)healthy is running in the city?
Call
Why sport you prefer inside, or outside? Let know by to leave a comment under this post.