Incomprehension by 'sick' Makwala that world cup final 400 metres are not allowed to walk
Isaac Makwala from Botswana may Tuesday does not start in the final of the 400 metres at the world CHAMPIONSHIPS of athletics in London. The medical section of the international athletics federation IAAF has decided.
Makwala is felled by food poisoning, as a result of a virus that he probably has occurred in the hotel where he was staying.
He was Monday already withdrawn for the series of the 200 metres. At that distance performed Makwala this season the world with 19,77. In the 400 meter gold he as a medaillekandidaat and important challenger of the reigning world champion Wayde van Niekerk.
Thirty athletes, staying in the Tower Hotel in London, had fallen ill. The Dutch atletiekploeg has shelter in another hotel, where no problems are.
Day 5 world CHAMPIONSHIPS athletics
The supreme Dafne Schippers has all the time in order to look in her series of the 200 metres.
© ANP
"This felt so simple. However, that is a very nice feeling," said Schippers immediately after after her 200 metres.
© ANP
Schippers saw her large unsecured Bowie just before the start of the 200 meter cancel.
© ANP
Isaac Makwala should not start in the final of the 400 meters, because he is sick.
© ANP
Melissa Boekelman in action during the qualification of the shot put.
© ANP
Boekelman are celebrating after achieving the final in the shot put.
© ANP
Share this photo via:
Back to slideshow
Conscious action
Makwala was totally not agree with the decision of the IAAF. "I don't understand. The IAAF says that they are the results of a medical test, but I'm not at all tested," he told Tuesday to the BBC.
"I had Monday also easily able to start on the 200 metres, so sick I was not. I have surrendered, that was it. It seems to be a deliberate action to get me off, I'm devastated."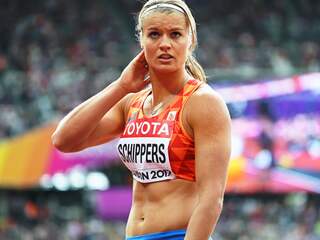 See also:
Program day 5 world CHAMPIONSHIPS athletics: Skippers begin hunting on second medal