Reynaldo Mora, 41, was arrested in April after he was accused of the rape and impregnation of a non-verbal 13-year-old girl in Maryland.
(Montgomery County Police)
An illegal immigrant in Maryland has been accused of rape of a non-verbal special needs girl, while he was supposed to be babysitting her at her home.
Reynaldo Mora, 41, was arrested on April 19 in Montgomery County and charged with sexual abuse of a minor, in addition to the two counts of second-degree rape, according to WJLA.
MAN WHO TRIED TO ENTICE TEEN BOY WITH SPRITE AND CHICKEN ALFREDO IS SENTENCED
Mora was reportedly babysitting the 13-year-old girl in February at her home in Kensington, where he allegedly forced the victim to have sex with him.
The girl, whom police said that the "intellect of a first grader" and can only communicate via gestures and writing," tested positive when she took a pregnancy test in April, the news outlet reported. Staff of a nearby medical center confirmed she was 11 weeks pregant.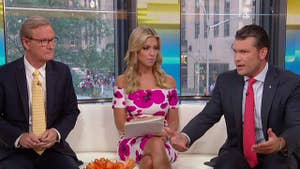 Video
Portland protestors call for the abolition of ICE cream
Mora was allegedly held for seven weeks at the Montgomery County Correctional Facility in Clarksburg after a district court judge denied his bond.
In May, his lawyer filed a "motion to reconsider bond, and on June 1, Montgomery County Circuit Court Judge Steven Salant granted Mora a personal exploration bond, to the station.
The personal recognizance bond would have allowed Mora to leave the prison without putting up money in the framework of a deal that he would appear in the future in the courtroom. However, as a result of a detainer from the U.s. Immigration and Customs Enforcement (ICE), the local police gave him to the federal officials on 6 June.
MS-13 GANG MEMBERS, INCLUDING 10 ILLEGAL IMMIGRANTS CHARGED IN DEATH OF VIRGINIA TEENS
Jose Campos, Mora's lawyer, told WJLA his client is innocent, and said Mora "willingly submitted to a DNA test and he is hopeful that this DNA test is going to delete everything."
Results for a paternity test were still pending, according to the report.
Mora is scheduled to appear in Montgomery County Circuit Court in October for a three-day trial. He reportedly faces up to 60 years in prison.
Nicole Darrah cover breaking and trending news for FoxNews.com. Follow her on Twitter @nicoledarrah or send her an e-mail to nicole.darrah@foxnews.com.