Hungary summons ambassador after criticism back from the Netherlands
Photo: AFP
The Hungarian government has on Friday to let you know its ambassador back to call from the Netherlands. Following is a edition in which the Dutch ambassador Gaius Scheltema, in Hungary, the Hungarian government of prime minister Viktor Orbán criticized.
Minister of Foreign Affairs Péter Szijjártó did Friday against state news agency MTI know that "the contacts at ambassadorial level for an indefinite period of time are shut down." Szijjártó said on Thursday all that will Give limits has been exceeded, and happy that he is going home.
Stumbling block is an equation that will Give drew opposite the magazine 168 Ora between the way the Hungarian government, according to him, an enemy perception creates and the way extremists do.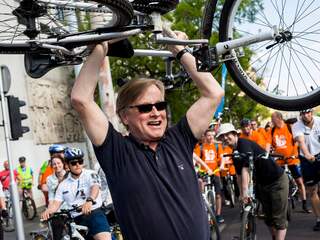 See also:
Hungarian government, angry with Dutch ambassador
Koenders
Minister Bert Koenders of Foreign Affairs takes away from controversial statements, the Dutch ambassador in Hungary. He thinks that his words are not so intended. Koenders said Friday after the council of ministers.
According to Koenders, the Netherlands a bit worried about other developments in Hungary, such as the ngo legislation in the country and the rule of law. "There the ambassador also rightly criticized deliver", emphasized the minister.
Western European politicians have shown themselves to be more critical about the government of Orbán. Regularly fall accusations about authoritarianism and the hollowing out of the rule of law. But Scheltema has it according to Szijjártó better made than other critics.