Hundreds of thousands protest in Iran against Trump
Hundreds of thousands of Iranians have Friday in the Iranian capital Tehran demonstrated against the U.s. president Trump.
The spiritual leader of the country, ayatollah Ali Khamenei, had earlier this week his countrymen called upon to show that they are not afraid of the United States. The Iranian president Hassan Rohani said Friday that Iran never gives in to threats.
Trump had threatened language spread towards the Islamic Republic that this weekend her 38th birthday. On February 11, 1979 threw the US backed monarchy of Mohammad Reza Shah Pahlavi (1919-1980). Anti-American demonstrations belong since then to a kind of tradition of support to the conservative clergy, and government is expressed.
Trump warned Iran after the country late last month a pilot with a rocket had carried out. He is an opponent of international agreements, which, under his predecessor, Obama in 2015 with Iran are closed about the nuclear ambitions of Iran.
Trump has Iran, along with six other predominantly muslim countries on a black list. People from those countries would for the time being not to the US. American judges have that entry, however, suspended.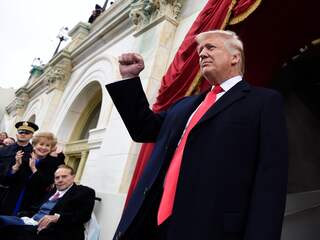 See also:
Trump blog: All the developments surrounding the U.s. president