If we have music or podcasts to listen to, play games, or YouTube videos to watch: with a pair of headphones or earphones to listen to the media, sometimes for hours. But what volume is harmful for our ears, many people do not known. This has to change, find VeiligheidNL and the world health organization WHO.
The campaigns about hearing loss, have in recent years focused on concert goers and festival-goers. Whoever close a box will stand up to feel the ears, almost whining. Earplugs can prevent that and that will be plenty sold. But there is still too much unclear about the possible dangers of headphones and earphones, says Saskia Kloet of VeiligheidNL.
See also:
So to protect your ears during a concert
"We are not aware of sound on the ear and from which the amount of decibels this all can be harmful. This is the case with sound louder than 88 decibels, which is faster than most people think," says Kloet. "Also, the fact that the damage to the ear is irreversible, not valued."
Worldwide 466 million people with hearing loss
In February, the world health organization with the message that young music lovers from all over the world have their hearing damaged by the lack of protected volume limit controls.
There are now over 466 million people with hearing loss, that were there in 2010 was 360 million. WHO estimates that this number will run to 900 million people in 2050, about one in ten.
"Hearing loss comes gradually."
Saskia Kloet, VeiligheidNL
Kloet has an explanation for the fact that we still do not realize how damaging headphones can be. "The relationship between loud music and hearing damage is not as immediately noticeable as, for example, a twisted ankle after a fall during sports. Hearing loss comes gradually. It is a sum that runs to loud noise and how long it is listened to."
25 percent students from primary school sometimes ringing in ear
Research of VeiligheidNL shows that almost all children (94 per cent) of ten to fifteen years, a pair of headphones or earphones to use when they listen to music, play games, or watch videos.
Also shows that 25 percent of the students from primary school to have a beep heard after listening to music, while only 4.5 percent of the parents said that their child is afflicted.
Tips to avoid damage:
Put the protected volume limit controls on your phone
Listen never to music louder than 88 decibels: three quarter of your volume bar
Take frequent 'audiopauze' to your ears rest
Test every few months for your hearing to damage in time to identify
Warning when the hard sound
The WHO recommends that all smartphones and music players software that ensure automatic volume reduction or control on the volume. Phones that after 2013 have produced a volumebegrenzer that on and off can be set, says Kloet.
The user will then get every half hour a warning in the picture as there during that time to more than 85 decibels has been listened to. "But not all devices have this now," says Kloet.
This new software would, according to the expert, can ensure that there is focused on individual level feedback can be given about the sound. The device detects how many decibels there is, measure the time and can give a message at a crossing.
"That would be an important step, also because you, by nature, not always even knowing if the sound is too loud. So, We must especially raise awareness about the volume reinforce to people the right action to take."
Not be louder than 88 decibels
The geluidsbegrenzing by VeiligheidNL is used is a volume no louder than 88 decibels. This is the same as two-thirds of the total volume bar of the device, says Kloet. "You stay under two-thirds, then you're in the risk-free zone."
Sound is possible from 80 decibels are harmful. Many audio players have a maximum of 100 decibels, there are also outliers that up to 130 decibels.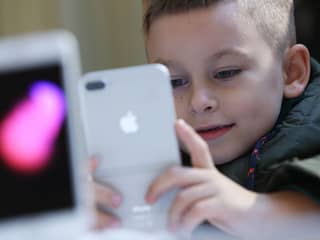 See also:
"Many look at screens affect the development of infants'
Regularly pause to ears, to relieve the
Those who think to suffer from hearing loss, wondering whether this is the case, could an online test do, says Kloet. "On the site of VeiligheidNL are three different tests for multiple age groups, these are developed in cooperation with universities and audiologists."
There are many studies about the fact that we hours a day to iPads, computers and other screens look, emphasizes Kloet. "It is recommended to regularly take a pause to your eyes to relieve. This is also true for your ears. Take off and take a break."