Louise Turpin, left, and her husband, David Turpin, center, both with their respective lawyers to appear for a preliminary hearing in Superior Court, Wednesday, June 20, 2018, in Riverside, California.
(Watchara Phomicinda/Press-Enterprise via AP)
California authorities on Thursday revealed that the "house of horrors" parents should stand trial for 49 of the 50 charges against them.
David and Louise Turpin, who were arrested in January, pleaded not guilty to a bunch of charges including torture and abuse of children, will face a trial for "all but one of the 50 counts," the Riverside County District Attorney's Office tweeted.
The court has ordered that David and Louise Turpin must be brought to justice, but one of the 50 counts. They are scheduled to return to court to be arraigned on Aug. 3.
— Riverside County DA's Office (@RivCoDA) June 21, 2018
The decision followed a preliminary hearing. Riverside County Superior Court Judge Bernard Schwartz discovered probable cause that the couple beaten 12 of their 13 children for a number of years. A domestic violence charge was thrown out, however.
GIRL IN CALIFORNIA. 'HOUSE OF HORRORS' CASE, SAYS SISTERS 'TO THE CHAIN' IN 911 CALL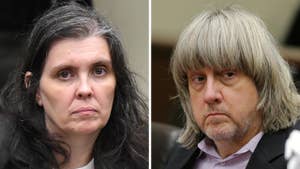 Video
DA reveals disturbing details from California. 'house of horrors'
A recording of a January 911 call was played during the Wednesday hearing, and the Turpin's 17-year-old daughter could be heard telling operators that two of her sisters were "the chain."
"She will wake up at night and she starts to cry and she wanted me to call someone else," the girl said in the phone call. "I wanted to call y'all, so y'all can help my sisters."
The teen's call for help led officers to the Turpin house and the parents were arrested. The researchers described a house the smell of human waste, while the children showed a clear evidence of the hunger — the oldest brother weighed just 82 pounds.
'HOUSE OF HORRORS' DAD GETS 8 PERJURY CHARGES ADDED
The couple pleaded not guilty to child abuse, torture, and other costs.
(Watchara Phomicinda/Press-Enterprise via AP)
The prosecutors argued in court that the children, whose age ranged from 2 to 29, were exposed to poor living conditions and showed evidence that the couple chained their children to beds and deprived them of food.
An arraignment hearing is set for Aug. 3, DA ' s office said. The parents are each being held on $12 million bail and could face up to life in prison, if convicted.
Fox News' Samuel Chamberlain and The Associated Press contributed to this report.