in the vicinity

Video
Gowdy to Rosenstein on Russia probe: 'Stop the hell up'
Republican lawmakers, Deputy Attorney General Rod Rosenstein and FBI Director Christopher Wray says that America is 'torn apart', which is of the investigation at a house hearing on the anti-Trump-agent Peter Strzok.
The house on Thursday approved insist on a non-binding resolution, the Ministry of justice comply with Committee subpoenas for documents in connection with the Russia-investigation of 6. July.
The party-line vote was 226-183 with one member, Rep. Justin Amash, R-Mich., Vote.
The Republicans have been hounding the DOJ for the creation of documents in connection with the investigation in Russia, the attempted interference in the election of 2016 and the question of whether anyone in connection with the trump campaign, in cooperation with Russia — the requirements of the legislature were blocked by the Agency.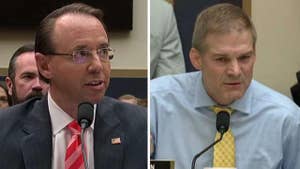 Video
Jordan Rosenstein: Why are you keeping information from us?
The house freedom Caucus Chairman Mark Meadows, R-N. C., said he wants to keep the house to either the Deputy Attorney General Rod Rosenstein in contempt of Congress, or charges Rosenstein, if the judiciary do not meet the Ministry of the 6. July Registration Deadline.
The voice came Rosenstein was grilled repeatedly on Thursday on Capitol Hill by house Republicans on everything from his Department in each of the Trump campaign monitoring, to the scathing watchdog report about the FBI's behavior during the Clinton E-Mail probe
GOWDY RIPS ROSENSTEIN ON RUSSIA PROBE
Before the vote, Rep. Jim Jordan, R-Ohio, personally Rosenstein challenged about his observance.
"Why are you keeping information from the Congress?" Jordan asked.
"It's not right, sir," Rosenstein said.
"We caught you hiding the information," countered Jordan.
Rosenstein insisted that his team responded to your requests.
"As with most things in Washington, the real work is not done on TV and it's not all of me," Rosenstein said. "Trump administration officials to meet and talk to their staff on a daily basis for requests and produce relevant information to this Committee, other committees and several Senate committees."
Fox News' Chad Pergram contributed to this report.
Alex Pappas is a political reporter at FoxNews.com. Follow him on Twitter at @Alex Pappas.