Hockeysters in the run-up to the european CHAMPIONSHIPS over past defending champion England
The Dutch hockeysters have Wednesday, the last testwedstrijd for the start of the european CHAMPIONSHIPS in Amsterdam, the rich won.
The team of coach Alyson Annan defeated England in the new Wagenerstadion with 5-0.
The goals came in the name of Kitty van Male (three), Frederique Matla, and Maria Verschoor. Mid was Orange on a 4-0 lead.
The netherlands opens the double european CHAMPIONSHIP Friday night with a match against Spain. For the first groepsduel are no more cards available. England is the defending champion in the women's.
In the men is the Netherlands title holder. The formation of keuzeheer Max Caldas, who is also the tournament start against Spain, lost Tuesday of India (1-2) in the last practice game for the european CHAMPIONSHIP.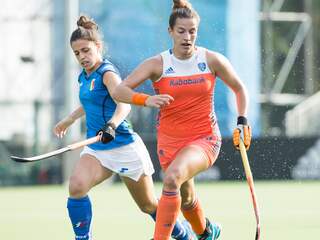 See also:
Top talent Matla want to join EK hockey not a fool by hype