Hillary Clinton on Monday, the Trump-government proposed the "zero-tolerance" – the southern boundary of the policy has separated hundreds of children from their parents, calling it a "moral and humanitarian crisis."
(AP Photo/Bebeto Matthews)
Hillary Clinton on Monday, the Trump-government proposed the "zero-tolerance" policy has separated hundreds of children from their parents, calling it a "moral and humanitarian crisis."
To speak at a women's event in New York, the former secretary of state, said President Trump's assertion that the break in addition to adults and their children living in the U.S. illegally is a law instilled by Democrats, "a smooth lie."
HHS RELEASES VIDEOS OF IMMIGRATION DETENTION CENTRES AS DEMS PRESS FOR CHANGE
Her speech at the "Women's Forum in New York awards lunch were followed, said a tweet on Monday afternoon in the Clinton: "Every parent, of every human being to be horrified, a child held in her arms, behind with a sense of compassion and decency, it should."
What is happening with the family on the border right now is a humanitarian crisis. Every parent, of a child held in her arms, will be appalled should any man with a sense of compassion and decency.
— Hillary Clinton (@Hillary Clinton) June 18, 2018
Clinton also took a swipe at the Attorney General Jeff Sessions, quoted on Thursday to defend the Bible, the limit of the policy, and added that the recent reviews were not "fair or logical, and some are against the law."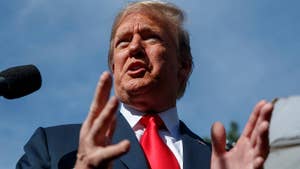 Video
Trump officials to strengthen the defense of the immigration policy
"I would like you to quote the Apostle Paul, and his clear and wise command in Romans 13 to obey the laws of the government, because God has ordained them for the purpose of order," sessions said. "An orderly and lawful processes are in themselves good, and to protect the weak and the lawful."
Clinton said that "those who justify selective with the Bible, this cruelty is to ignore a Central tenet of Christianity."
"I said, studied the Bible, both the Old and the New Testament," the 2016 presidential candidate. "What happens with the name of religion is contrary to everything that I ever taught."
It is called your own quote from the Bible (Matthew 19:14 — in response, say, "Jesus, let the voice of the little children to me. He did not say, let the children suffer."
DHS SECRETARY NIELSEN SAYS: "WE WILL NOT APOLOGIZE" FOR THE CONTROVERSIAL IMMIGRATION POLICY
Clinton added that the former First Lady, Laura Bush, moods, published Sunday in an op-ed in The Washington Post, in which she referred to the policy of the government as "cruel" and "immoral" and that it "breaks [her] heart, "absolutely right."
The Associated Press contributed to this report.
Nicole Darrah cover breaking and trending news for FoxNews.com. You can follow her on Twitter @nicoledarrah.