Bernhard ten Brinke look back with a good feeling on the first stage in the Dakar Rally. The racing driver from Zeddam closed the trip of 331 km with a special stage of 84 km in Peru as the eighth.
"It went totally according to plan," said Ten Brinke Monday after the first trial of the notorious woestijnrally, which began in Lima. "We have a controlled pace, ridden and lost no time. That is the most important thing. I am very satisfied."
Ten Brinke, who this year for the fifth time participate in the Dakar Rally and hopes to do to the final victory, came at three minutes and nineteen seconds of winner Toyota team-mate Nasser Al Attiyah to the finish.
The 41-year-old Dutchman enjoyed in the first stage especially of the collaboration with the Frenchman Xavier Panseri, his new navigator. "Xavier earned a perfect job, the car is a pleasure to drive and we are good at. This was a good kick-off."
De Rooy keeps good feeling about in spite of problems
For Gerard de Rooy was the first stage slightly less prosperous. The trucker was 20 kilometres from the finish but lost by an overheated tire and a faltering turbosensor the necessary time.
"Next were the shock absorbers to the soft-tuned, especially on the descents", commented the 31-times stage winner De Rooy after the finish line in Pisco back in the race. "But it was fine, certainly in the dunes."
Ton van Genugten, team-mate of De Rooy at Iveco, came as second over the finish line. He had only the Russian Eduard Nikolaev of Kamaz, eighteen seconds faster was for him to tolerate.
"Everyone had previously said that I quietly had to do and that was I also really do plan to, but at the start I asked if it was okay if I gas would give," says Van Genugten. "And it was so good. I have enjoyed in the dunes."
The second stage of the Dakar Rally will be held Tuesday from Pisco to San Juan de Marcona. After a connection route of 211 kilometers, wait for a 'special stage' of 342 kilometres.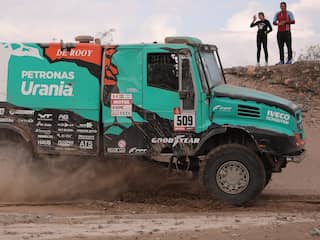 See also:
Van Genugten, De Rooy and Ten Brinke had a great start to the Dakar Rally