Grim atmosphere at the first day of peace talks Syria
Photo: AFP
The peace talks about Syria in the Kazakh capital Astana to go Tuesday after a grim first day.
During the consultation, the focus is on strengthening the fragile ceasefire in a civil war affected country.
The atmosphere during the negotiations Monday was grim. The negotiator of the rebel groups, Mohammed Alloush, has called the Syrian government "a terrorist unit".
On his turn, called Bashar Jaafari, the representative of the Syrian president Bashar al-Assad, the opposition, "a delegation of armed terrorists".
The consultation is an initiative of Russia, Iran and Turkey. Russia and Iran are the main allies of the government of Assad. Turkey is supporting various rebel groups. The United States, which last year was a failed attempt did for to vredesoverleg to come, are not involved in the initiative.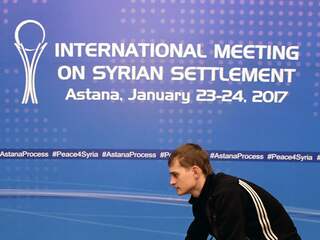 See also:
Summary: The peace talks on Syria in Astana