close

Video
Military mother claims someone stole coins from son's grave
Massachusetts military mother claims someone is stealing coins from the grave of her son.
A military mother in Massachusetts, says the coins placed on the grave of her son are gone.
Lynda Kiernan lost her 18-year-old son, Private First Class, Becket Kiernan, earlier this year, while he served in California.
"He wanted to be a Marine since he was little, small," she said to Boston 25.
The Navy of Rochester died in February, after he was misdiagnosed with the flu when he ended up with a flesh-eating bacteria.
"By the time they found out, it was too late," his grieving mother said.
The teenager was buried at the Massachusetts National Cemetery in Bourne and it is one of the few places that brings his mother some peace, she said.
"It is one of the only places where I know where my son is," Lynda Kiernan added. "I come here and I talk and I talk with him."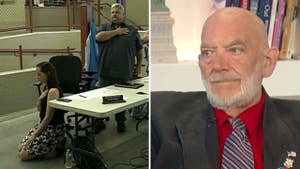 Video
Outraged veteran slams officer who knelt for building
It is a military tradition for visitors to leave a penny if they knew the cases. A nickel means that they were in boot camp together, a dime, as they served together, and a quarter if they were together when the soldier died.
Becket's grave stone was covered with coins of those who loved him; however, in the last few weeks, many of these coins have slowly disappeared, Kiernan said.
"A Gold Star mother whose son is buried here also came to visit Beck," she said. "She had a very special silver half-dollar with him and I just knew, it's Saturday, special coins, and it will go missing and within 24 hours it was gone."
Kiernan said the cemetery director told her groundskeepers may have blown the coins, while mowing the lawn.
She said that on the basis of how often the grass is mowed and the frequency of the coins disappear, that she believes that someone is stealing them.
"It makes me, makes me sick to think that someone thinks that it's OK to take of him," Kiernan said, adding that she hopes that whoever is responsible for this is a change of heart.
"I don't understand what is broken in them, that they only have a coin and taking an 18-year-old Marine who gave it all," she said.
The Massachusetts State Police, who patrol the Joint Base Cape Cod – the cemetery – she said, as she stepped up on their patrols and groundskeepers to keep an eye in the sail.
Lucia I. Suarez Sang a Reporter for FoxNews.com. Follow her on Twitter @luciasuarezsang