to connectVideoFox News Flash, important news, Dec. 16
Fox News Flash, important news, for the Feb. 16, here. Check out what to click on Foxnews.com
Well, it's a unique look at the Birth of jesus christ.
A 5-year-old girl, in England, was in part, a presentation of the christmas story, when she apparently flipped off the crowd for almost the entire production process. However, the young girl had no idea what she was doing, and I was just trying to get her mother's attention.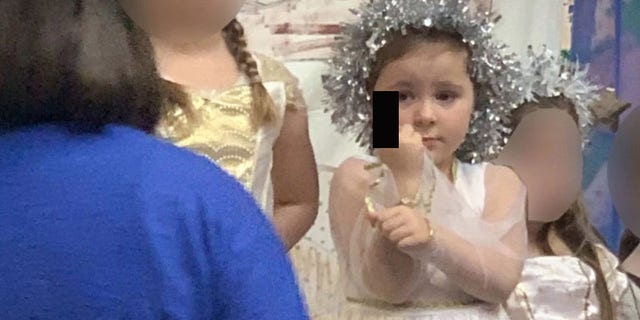 The 5-year-old girl who was apparently just trying to let her mother know that she has a hangnail.
(Kennedy's New Look
The contractor had a hangnail on her little finger, and it was not to send her to school with a message from The New York Post reports.
He Bovington, the mother of the girl, and spoke to Kennedy the News, saying: "The show was about half an hour, and I'd say 70% of it and she had her middle finger up. And I thought, 'Oh God, She please, please, please.' She was so naive, I can think of is that the majority of people think, 'Oh, bless her.'"
PARENTS TO BEAT TO GET THE CHILD TO SIT AT THE SUSHI BAR, THE FOOD IS ON A CONVEYOR BELT
While She had no idea what she was doing, " Bovington said: "some of the older children, and whispered, 'She's got her hands up high.' Everyone else seemed to know what she was doing."
One to watch Bovington and share photos on social media, where the images show a slightly troubled She is with her little finger up to the camera.
CLICK HERE TO VIEW THE FOX NEWS APP
"It was so funny, because they don't know what they're doing," Bovington will be continued. "I had to keep talking about the" put your finger down, un-obtrusive, but I'm just going to accept that she was going to be there, standing with her finger raised."
Bovington also explained that while She wanted to thank everyone for "liking a photo of her," and she asked me why everyone thought it was so funny.
CLICK HERE TO SUBSCRIBE TO OUR LIFESTYLE NEWSLETTER
"It was supposed to be my child," Bovington will be continued. "She thinks she looks cute, but don't know why we're all laughing, which was kind of fun. When she is older I will get it (the photo) out to show her. The second one was much better. There was a bit of clowning around, as usual, in front of her, but it was fun."