General director Joost de Wit leaves immediately at Vitesse. He is after more than five years to a new challenge and is succeeded by Pascal van Wijk.
The White was since the summer of 2013, general manager of Vitesse. The 56-year-old driver, who from 2011 to 2013 worked at RKC Waalwijk, has "in consultation with the board of commissioners" decided to leave.
"I have spent the past five years a great time at Vitesse had," says The White at the site of Vitesse. "I am proud that I do my part I may contribute. It was a beautiful period, but the last time I noticed more and more that I have a new challenge am. Then it is better for everyone if you stop."
Under the reign of The White won Vitesse for the first time in the history of the club to the TOTO KNVB-cup. The people from arnhem were in 2017 in the final with 2-0 too strong for AZ. By the bekerwinst came to Vitesse in the season 2017/2018 out in the group stage of the Europa League, where the European adventure is also stopped.
Joost de Wit at the end of Guram Kashia. (Photo: ProShots)
Successor Of the District has been working for fifteen years at Vitesse
The White is followed by the 48-year-old Of District. The born Arnhemmer has been working for over fifteen years at Sprint in various positions. He served most recently as manager of finance and business operations.
"I am very proud of this appointment", says Van Wijk. "I see the new feature as a very nice challenge, and step out there with a lot of energy."
Vitesse makes yet a different season. The team of trainer Leonid Slutsky is busy currently the fifth spot on the league table with 33 points, seven less than a number four AZ, and one more than FC Utrecht (sixth) and Heracles Almelo (seventh).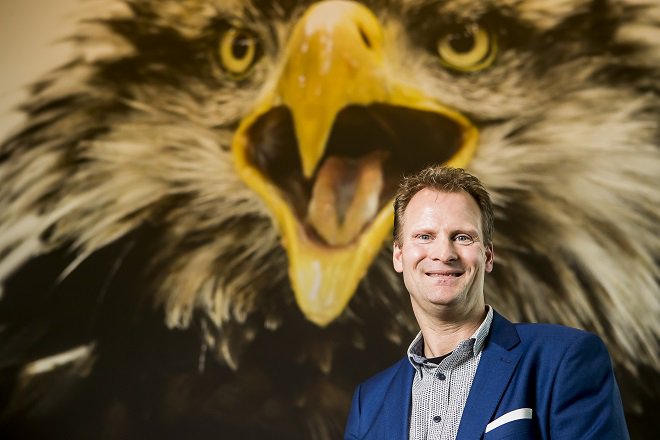 News: Joost de Wit leaves #Vitesse, Silver Vitessenaar Pascal van Wijk is his successor.
More information about the change in the board of directors: https://t.co/GpB5gRvUay
Avatar
AuteurMijnVitesseMoment of plaatsen10:48 – 21 February 2019
View the program, the results and the position in the Premier league