Gambian population celebrates inauguration president Barrow
Photo: AFP
Thousands of inhabitants of the Gambia have on Saturday the inauguration of their new president, Adama, Barrow celebrated. To estimate were 25,000 people gathered in a stadium in the capital Banjul. Also the presidents of the neighbouring countries, Ghana, Liberia, Senegal, Sierra Leone, Ivory coast and Mauritania, were also present.
Because of the tense political situation in the Gambia was Barrow actually already in January, sworn in the Gambian embassy in Senegal. The return of the former leader of the opposition in the tiny West African country late last month, was preceded by a power of its predecessor, Yahya Jammeh.
Jammeh lost the 1 december elections, but refused to steps. Eventually, he seemed to be under heavy diplomatic pressure willing to go into exile.
Now Barrow is back in the Gambia and has started his role as president, there was another inauguration place for the eyes of the population.
On Barrow resting now high expectations. The new president promised more freedoms. He also wants to have a lot of decisions of its predecessor rollback.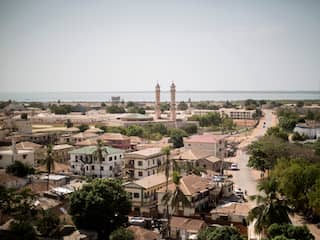 See also:
Summary: The troubled situation after the elections in the Gambia