Galaxy Note 7 as of October 10, still delivered in the Netherlands
Photo: Bloomberg
Samsung begins on 10 October with the delivery of the Galaxy Note 7 to uk customers who phone in advance to have ordered. The launch in the Netherlands was postponed when it turned out that there was an explosion.
Samsung made that Thursday known. The Galaxy Note 7 is due to the technical problems still not released in the Netherlands. When the device available here is for general sale, is not yet fixed.
Dutch that the unit had previously ordered, as compensation for the wait a memory card of 128GB will be sent. With a new green battery icon in the status bar to know customers that they are, indeed, a safe device in hands.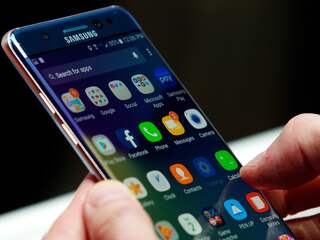 See also:
'Explosiefiasco Samsung caused by the race against iPhone launch'
At the end of August, Samsung launched the Galaxy Note 7 in the United States, but soon appeared a few tens of devices in the fire to fly or explode. That is due to a powerful battery that can overheat. Devices that are already sold, are massively recalled.
Exchange
Tuesday it was announced that Samsung is now enough copies of the Galaxy Note 7 is in stock half of the recalled models in the United States actually to trade. There are half a million replacement devices available in the country, so made the South Korean company is well known.
Users can have their unit swap for a Galaxy S7, a custom Galaxy Note 7 or a full refund.