in the vicinityVideoWho were the winners, the losers of the second Democratic debate?
Reaction of the former Sanders 2016 campaign assistant Tezlyn Figaro.
The voice – it is your Patriotic duty! This is what almost all of the voters, according to the latest Fox News poll.
If the voters are asked whether certain actions of a patriot, or not, participation in elections is first and foremost, with fully 90 percent say it is. Five years ago, flying an American flag bearing in voting sums up to one percentage point (June 2014).
Flying the Star-Spangled Banner now comes in second (85 percent), which is the military (84 percent), the third, and volunteering time to service to the community (80 per cent) is fourth.
There are in the lower levels of the contract-although still majorities-on other actions, including the serve on a jury (77 percent), taxes (74 percent), stay informed about the news (67 percent), and participation in a political protest (60 percent).
The order of the four elements differs slightly depending on the party affiliation.
CLICK HERE TO READ THE RESULTS OF THE SURVEY
Democrats view votes (89 percent) as the epitome of patriotism, followed by volunteering (80 percent), the flag and the candidate of the military (both 79 percent).
The Republicans are more likely to say the flag (92 percent), and entry into the military (92) are the most loyal things you can do for your country. Casting a ballot is close behind at 90 percent, while the voluntary labour comes down to 82 percent.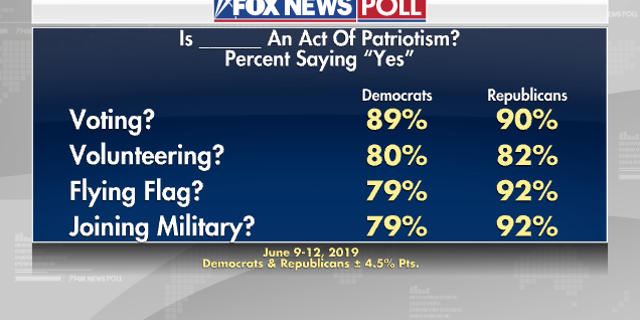 Each Element, however, with the exception of volunteering, has been a drop in support since 2014, when the question last.
To remain the largest decline (-12 points) comes from those who believe they are informed about the news foreign obligations: 79 percent in the year 2014 is a part of your father which is in comparison to 67 percent now.
The shift comes primarily from the independent (-19), the Republicans (-16), women (-15), and white, without a college degree (-15).
The next largest decrease is the flag, or 9 points, followed by recruitment in the military (-6), serve on a jury (-6), paying taxes (-4) and the vote (-3). This view of political Protest (-1) remains as a Patriotic, relatively unchanged.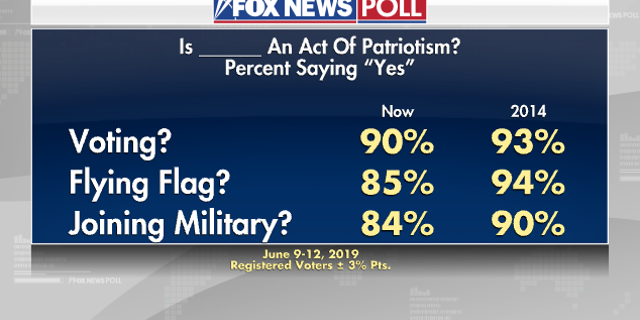 Conducted June 9-12, 2019, under the joint leadership of the Beacon research (D) and Shaw & Company (R), of this Fox News poll is based on interviews with 1,001 randomly selected voters nationwide, spoke with a live Interviewer on both landlines and mobile phones. The survey has a margin of sampling error of plus or minus three percentage points for all registered voters.