Athletics
Four-time olympic champion Farah, fear Trumps category
Mo Farah has widely criticized the view of president Donald Trump, of the United States. The four-time olympic champion is afraid that he can't return to America.
The 33-year-old Farah has been living for six years in Oregon, but was born in Somalia. The travel ban, that by Trump for ninety days is set, it applies for people from the African country.
Also citizens from Iraq, Syria, Iran, Libya, Sudan and Yemen are provisionally barred from the United States. Farah was born in Somalia, but left all at the age of eight to England.
"It is very worrying that I will to my children to tell daddy later might not come home by a rule that is based on ignorance and prejudices," says Farah, in a statement on his Facebook page.
"On January 1 of this year, I was knighted by the queen of the United Kingdom. 26 days later, it seems that president Trump of me a kind of alien."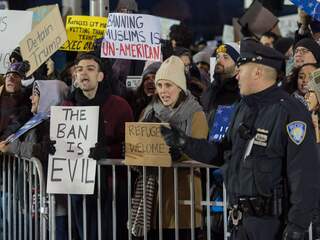 See also:
Judge blocks Trumps re-entry ban for people with visas
Training camp
It is not yet clear whether and when Farah, who does not have a Somali passport, can return home. The British athlete is currently in Ethiopia, where he is a training camp to follow in preparation for the world CHAMPIONSHIP of athletics in August in London.
A federal judge in the U.s. state of New York certain Saturday that people in the United States are landed and have a valid visa, must be admitted. Farah, olympic champion in the 5 and 10 kilometers, nevertheless.
"I am a Briton who is already six years living in America. I work hard, contribute to society, pay taxes and have four children brought up in a country that we consider to be home. And now me, along with many others, are told that we may not be more welcome."