Former president Bush (92) discharged from hospital
Photo: AFP
The American ex-president George H. W. Bush is since Monday is no longer in the hospital.
The 92-year-old Bush was at the Houston Methodist Hospital in Texas because of a pneumonia.
"He is grateful for the many beterschapswensen that he received during his stay", his spokesperson know. "He is also the doctors and the sisters are grateful."
Bush senior was January 20 in the hospital, since a week he was no longer in the intensive care unit.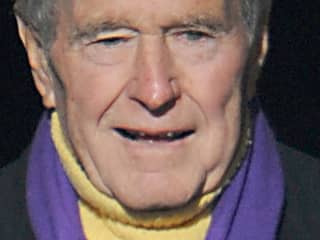 See also:
George Bush senior is leaving intensive care after pneumonia
Bush was president from 1989 to 1993. He is the father of George W. Bush, president of the US was from 2001 to 2009.
Happy to report that @GeorgeHWBush was discharged from @MethodistHosp today. He deeply appreciates everyone's praye… https://t.co/tnoLjGT0a0
Avatar


Author
jgm41
Time of placing
18:13 – 30 January 2017