close

Video
Filmmaker caught in Antifa protest in Berkeley
Ford Fischer, co-founder and editor-in-chief of News2Share, captures violent confrontation in California.
A filmmaker has described how he was threatened by the members of the Antifa, while he tried to film them destroying property in the near-simultaneous protests in Berkeley, California. Sunday.
"They basically confronted me, and said," here, the police can not, so they can not help you,'" Ford Fischer told Fox News' "The Story" on Monday evening.
Fischer, the co-founder and editor-in-chief of live streaming service News2Share, described that he followed a group of Antifa members, known as the Black Bloc, as they broke from the main demonstration on Martin Luther King Jr. Civic Center Park.
Fischer posted mobile phone footage on Twitter that showed rioters smashing the windows of a U. S. Marine Corps recruiting office.
"From the other side of the street, I was able to film and zoom in really tight," said Fischer, who added that after a damage of the recruiting office", someone threw a lit torch in a dumpster, in principle, tries to create a waste container in a fire."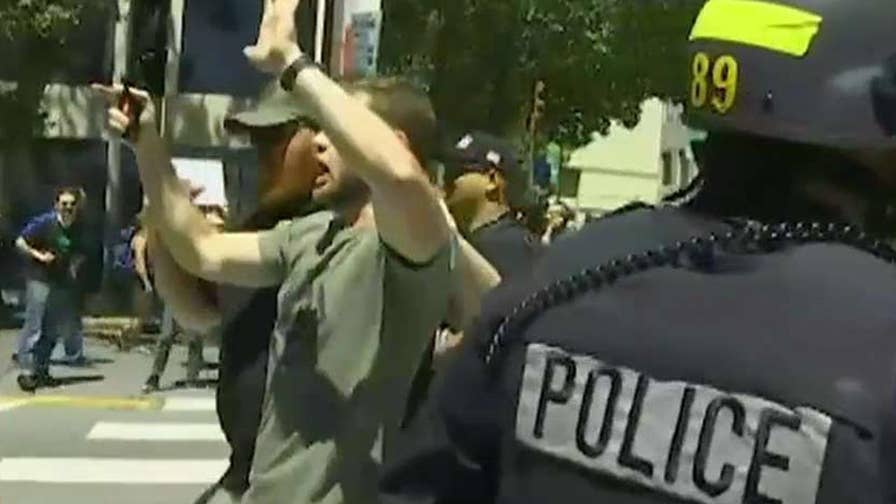 At that point, Fischer says, he was confronted by the members of the Black Block, and told to leave, which he did.
"To be honest, I have no doubt that I was in pain I will not leave," and he told Fox News' Sandra Smith.
Berkeley Police said 20 people were arrested at the dueling demonstrations between the Antifa and the members of the so-called ' alt-right." Three people suffered minor injuries after a group of protesters threw "explosives" — presumably fireworks and flares at the police and the Alameda County Sheriff's officers.
In addition to the damage caused to the Marine Corps post, Berkeley police also said, "an extremist element among a large group of" damaged 21 city vehicles, setting one on fire, and cut off their ties. The group has also burn in the trash cans, which were soon extinguished.
"The original protests had relatively little violence," Fischer said. "It was a lot of people shouting at each other and quarrel. The majority of the violence and the property destruction was this sea of Antifa-type of persons who participated kind of on the edge."
Fox News' Sandra Smith and travis Fedschun contributed to this report.