Football
FC Utrecht is different for first Europa League match to Waalwijk
Photo: ProShots
FC Utrecht will play the home match in the second qualifying round of the Europa League not in the own Galgenwaard, but in the Mandemakers Stadium in Waalwijk, the netherlands.
The team from the cathedral City of deflection to the stadium of RKC Waalwijk, because the own home than in use for the european CHAMPIONSHIP women's football. If FC Utrecht is a round further come, play, and then again in The Galgenwaard.
FC Utrecht has for the home of RKC chosen because many of the other stadiums in the area are not available. "We have all the pluses and minuses weighed against each other, and are released", said a spokesman of the club Monday.
The team of trainer Erik ten Hag secured on Sunday a ticket for the Europa League, the final of the play-offs against AZ via penalty shoot-out to win.
FC Utrecht flows in the second round and will play its home game on 13 or 20 July. That happens on the artificial turf in Waalwijk, the netherlands.
FC Utrecht-AZ
Delight at Nacer Barazite.
© ANP
After stormed the fans of the home team to the field.
© ANP
FC Utrecht made the 3-0 defeat Thursday in Alkmaar, within a undo. It was 3-0 after ninety minutes.
© ProShots
AZ played a long time with ten men after red for Derrick Luckassen.
© ANP
In injury time of normal time, turned Tim Krul for a penalty kick.
© ANP
It was a barrage on the goal of AZ.
© ProShots
© ProShots
Disappointment at AZ.
© ANP
Discharge at FC Utrecht.
© ProShots
David Jensen sat on the shoulders after FC Utrecht for a European ticket veiligstelde.
© ANP
Sébastien Haller was afterwards delirious.
© ANP
For the striker it was a wonderful goodbye to FC Utrecht. He picked up the club Sunday, a European ticket.
© ANP
Share this photo via:
Back to slideshow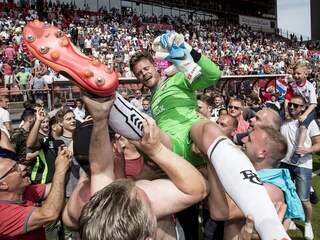 See also:
FC Utrecht takes European ticket after sensational return against AZ