FC Utrecht should next season come out in the preliminary rounds of the Europa League. The team of coach Dick Advocaat assured of the ticket by the return against Vitesse in the final of the play-offs for European football with a 0-2 win.
Utrecht had more than enough to win in the GelreDome, as the heenwedstrijd in the City ended last Friday in 1-1.
Cyriel Dessers opened after a little more than half an hour the score for Utrecht and Simon Gustafson, a small fifteen minutes to the end position. Vitesse finished the match with ten men by a red card for Mohammed Dauda shortly after the 0-2.
By the victory in the diptych with Vitesse Utrecht plays next season in the second qualifying round of the Europa League. AZ, that if finished fourth in the Eredivisie, flows also in the second round, and number three Feyenoord start the European campaign in the third qualifying round.
Last season the were Utrecht and Vitesse also opposite to each other in the final of the play-offs for European football. When did the people from arnhem to the longest end.
Cyriel Dessers opens the score for FC Utrecht. (Photo: Pro Shots)
Dessers brings to Utrecht in the first half to lead
By the result in the heenwedstrijd had to Utrecht to score in Arnhem. The visitors then went directly in search of the opening goal and had chances through Sander of the Region and Gustafson.
In the 31st minute it was touch for the Domstedelingen. After a header from Gustafson found Dessers the net with a shot from the turn.
Utrecht went into the second half on the hunt for the second goal and was there a quarter of an hour for the time is near with a chance for the Region. A few minutes later, Gustafson called for the decision by goalkeeper Remko Pasveer to omspelen and the ball in the empty goal to slide.
Vitesse came a minute after the 0-2 with ten men by a red card for Dauda. The Ghanaian was sent off the field after he hard went on the ankle of Gustafson. In the sequel, the home team not to have the tension to bring back.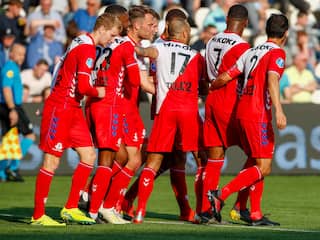 See also:
Match schedule play-offs for European football and promotion/relegation