Athletics
Farah is in spite of category is welcome in United States
Photo: AFP
Mo Farah may from his training camp in Ethiopia simply travel to the United States. The ministry of Foreign Affairs in Washington has given him that assurance.
The measure of the American president, Donald Trump for, among others, people from Somalia not to provide access to the United States, does not apply to the four-time olympic champion.
Farah was born in Somalia but has the British citizenship. The athlete wrote Sunday on Facebook full of dismay about the measure of Trump.
"It is very worrying that my children need to tell that daddy will perhaps not come home by a rule that is based on ignorance and prejudices," wrote Farah.
"On January 1 of this year, I was knighted by the queen of the United Kingdom. 26 days later, it seems that president Trump of me a stranger."
See also:
Four-time olympic champion Farah, fear Trumps category
Relieved
Farah lived for the past six years in the United States with his family. "I have my four children brought up in the place that they like their home. And now we are told that we are not welcome anymore."
The American ministry of Foreign Affairs sought out what it was and reported Farah on Monday that he did to the US. The olympic champion in the 5 and 10 kilometer responded according to his spokesman, relieved.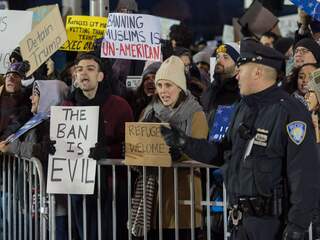 See also:
Judge blocks Trumps re-entry ban for people with visas