Family say goodbye Linkin Park-vocalist Chester Bennington

Family, friends and other acquaintances of Chester Bennington have Saturday during a private service to say goodbye to the Linkin Park singer.
The service took place near the house of Bennington in Palos Verdes, California, writes TMZ.
A few hundred people, including many musicians who, with Bennington played, were Saturday present. There was a special stage set up for artists that have a musical tribute wanted to bring.
The lot was well monitored by the police. All attendees had a wristband and a pass.
Previously thanked Dave Farrell, the bassist of Linkin Park, fans of the band for their support after the suicide of Bennington.
"Last week was very heavy. The love and support that I have received from friends and fans from all over the world is wonderful. I wish that I personally could like to thank for their love and support," writes the musician on Twitter.
Farrell continues: "A large part of Chesters legacy are the memories that we have him in our hearts. He was an enthusiastic, fun and light-hearted father, an honest and passionate musician and a loyal friend."
It goes without saying, this last week has been extremely difficult. The outpouring of love and kindness I've received from friends and (1)
Avatar


Author
phoenixlp
Time of placing
15:45 – 29 July 2017
Commemorations
The bassist of the rock band ended to say that he is touched by all the commemorations that worldwide organized for Bennington. He called out to his fans on photos to send, so he put them on his own timeline.
Farrell placed eventually dozens of photos of tributes in, among others, France, Italy, Chile, Russia, South Africa, Mexico, Canada and the United States.
Bennington made on 20 July an end to his life, at the age of 41. He was married to Talinda, with whom he has three children.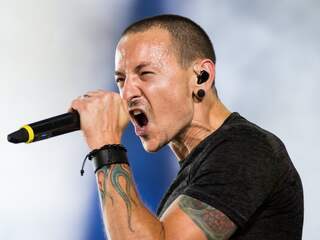 See also:
Chester Bennington was Linkin Park-voice of a generation