Facebook adds livestreams to virtual reality-platform
Photo: Facebook
Facebook has a livestreamfunctie added to his social virtual reality platform Spaces. This allows users to images from VR to broadcast to friends.
The new option was through Facebook published on its newsblog you'll find.
It is with the VR-app Facebook Spaces from Wednesday as possible to live broadcast what is happening in the virtual world of users to see. The person in Spaces can itself be a camera in the virtual space to hang out and so the image for the followers to determine. Friends on Facebook can look and respond, just as in the regular livestreams on the social network.
According to Facebook allows the addition of livestreams make that virtual reality a more open platform. Users without the headset can still meet with the possibilities of Spaces.
Facebook Spaces is currently only available for people with an Oculus Rift headset. With the Spaces-app to make users a digital image. Then they can be avatars of others to meet and carry out activities. It is not known how many users the app has.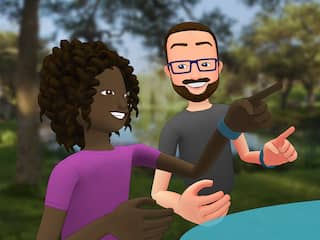 See also:
First impression: VR in Facebook Spaces, not a lonely experience more