Exhibition about the fall of Srebrenica in the former headquarters Dutchbat
In the former headquarters of the Dutch Battalion UNPROFOR in Srebrenica on the 9th of February the opening of an exhibition about the dramatic events in 1995 plaatshadden.
Srebrenica Genocide – the Failure of the International Community is called the exhibition.
The exhibition was created by Memorial centre Camp Westerbork, in cooperation with the peace movement PAX and the local Potocari Memorial Centre, and according to Westerbork and Pax "in consultation with survivors and survivors of the genocide and Dutchbatters".
Despite the presence of the peacekeepers of Dutchbat was in Srebrenica on 11 July 1995, conquered by the Bosnian Serb army. More than eight thousand muslim men and boys were murdered.
The exhibition includes photos, videos, documents, infographics, texts and personal memories.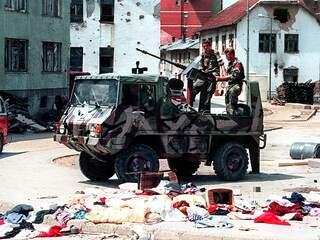 See also:
This happened during the fall of Srebrenica
​