The European Union rejects the possibility of a military intervention in Venezuela to president Nicolás Maduro out of the saddle to be divested in favor of the self-proclaimed interim president and opposition leader Juan Guaidó, a spokesperson of EU foreign minister Federica Mogherini said Monday.
The spokesman added that the EU is in contact with all parties involved in the conflict.
The German ministry of Foreign Affairs showed Monday know sanctions against Maduro and his political and military supporters to consider.
Last weekend tried the opposition a number of hulpzendingen with food and medicines through Brazil, Colombia and Venezuela. That led to battles with the ordetroepen of president Maduro, that humanitarian aid refuses to let go, and the borders closed. The shipments have eventually failed.
66
Venezuelans rescue relief from burning truck
Maduro sees humanitarian aid as a devious plan of Americans
Maduro denies that in his country there is a humanitarian crisis, even though millions of Venezuelans have fled abroad and the shortages of food, other consumer goods and medication with acute. According to the president of the humanitarian shipments a cover to American weapons in the hands of the opposition.
Leader of the opposition Guaidó is Monday in the Colombian capital Bogota, to talk with the U.s. vice president, Mike Pence, and members of the Lima group, an alliance of fourteen Central and South American countries. In advance announced Pence during that consultation with "concrete steps" and "clear actions" to come.
The venezuelan army continues to Maduro support
Guaidó, the president himself last month to interim president has been appointed, is supported by the US and other western countries, including the Netherlands. He makes, however, little chance of new power a legitimate exercise, as long as the Venezuelan army behind Maduro.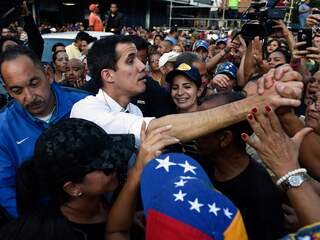 See also:
This is what we know about the situation in Venezuela
Newsletter
Do you want to every morning, right to know what you night have missed, and what the day is going to happen? Subscribe to our This is the news-newsletter!