Eredivisietrainers sure to scoop through all of christmas to catch up
The Eredivisietrainers have Sunday for a scoop taken care of. For the first time this century, all eighteen coaches that the season started with christmas still in function.
The record since the turn of the century was seventeen trainers who the christmas concert. That was in the seasons 2002/2003, 2004/2005 and 2012/2013.
In the first half of the season in 2002, had only Henk van Stee leave in AZ. Two years later, it was Johan Neeskens who is the field away at the NEC and in the fall of 2012, John Smithson, away at NAC Breda.
Last season there were two coaches, christmas is no longer in function. Alfred Schreuder got in August 2015 his dismissal at FC Twente, and two months later put Dwight Lodeweges his position at sc Heerenveen.
Low-point this century for the Eredivisietrainers was the first half of the season 2007/2008. At the time, left a total of five trainers, all joined Henk ten Cate voluntarily from Ajax to Chelsea, and exchanged Ronald Koeman of PSV for Valencia.
Gert Aandewiel (Sparta) was dismissed, just as Dennis van Wijk at Willem II. Ruud Brood was in 2007, even a day before christmas is still the avenue from sent at Heracles Almelo.
The infographic is not available with your current settings. Click here to change it.
1983
In the entire history of the Eredivisie (since 1956) it is no scoop that all trainers christmas. The previous time it happened was in the season 1983/1984. Cor van der Hart, Fortuna Sittard was when, on January 6, the first trainer who had to leave.
Also in the 1985/1986 season were all the trainers on the bench during the last round before the winter break, but before christmas departed Han Berger in AZ and Bert Jacobs due to health problems at Fortuna Sittard.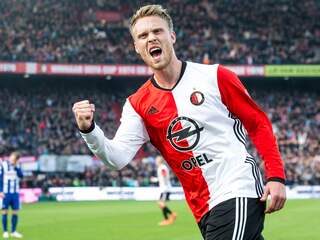 See also:
Overview first half of the season: Jörgensen most valuable player