Erdogan still wants the death penalty to enter in Turkey
Photo: AFP
Hundreds of thousands of Turks have Saturday the turn of the military coup exactly a year ago in the country took place, commemorated. President Recep Tayyip Erdogan spoke again his desire to see the death penalty again.
Many Turks went to the bridge over the Bosphorus in Istanbul. That bridge is a symbol for the resistance against the coup. President Recep Tayyip Erdogan unveiled a monument for the approximately 250 people who perished in countering the coup.
The Turkish president during a speech on the bridge repeated that he is willing to do the death penalty again. If the parliament wants to, he will the law before signing, " he said.
Erdogan promised without prejudice to hard to continue to act against "the miserable coupplegers and anyone who is against us has heated up." The president ondigde that the state of emergency that shortly after the failed coup was set up, the next week for the fourth time will be extended.
The president can then decrees prescribe, which is not for the constitutional court may be challenged.
Spreekkoren
Many supporters cheered him. They demanded with spreekkoren that the instigators of the putsch and sentenced to death. Several supporters of the Turkish leader had except the usual flags of a sling brought.
Also in parliament is the turn commemorated. Leaders of the Turkish opposition parties expressed sharp criticism of the government of Erdogan. Instead of a quick normalization to pursue, she has "a permanent state of emergency created" and the law "destroyed," said Kemal Kilicdaroglu of the CHP. Later Erdogan to the parliament to speak to.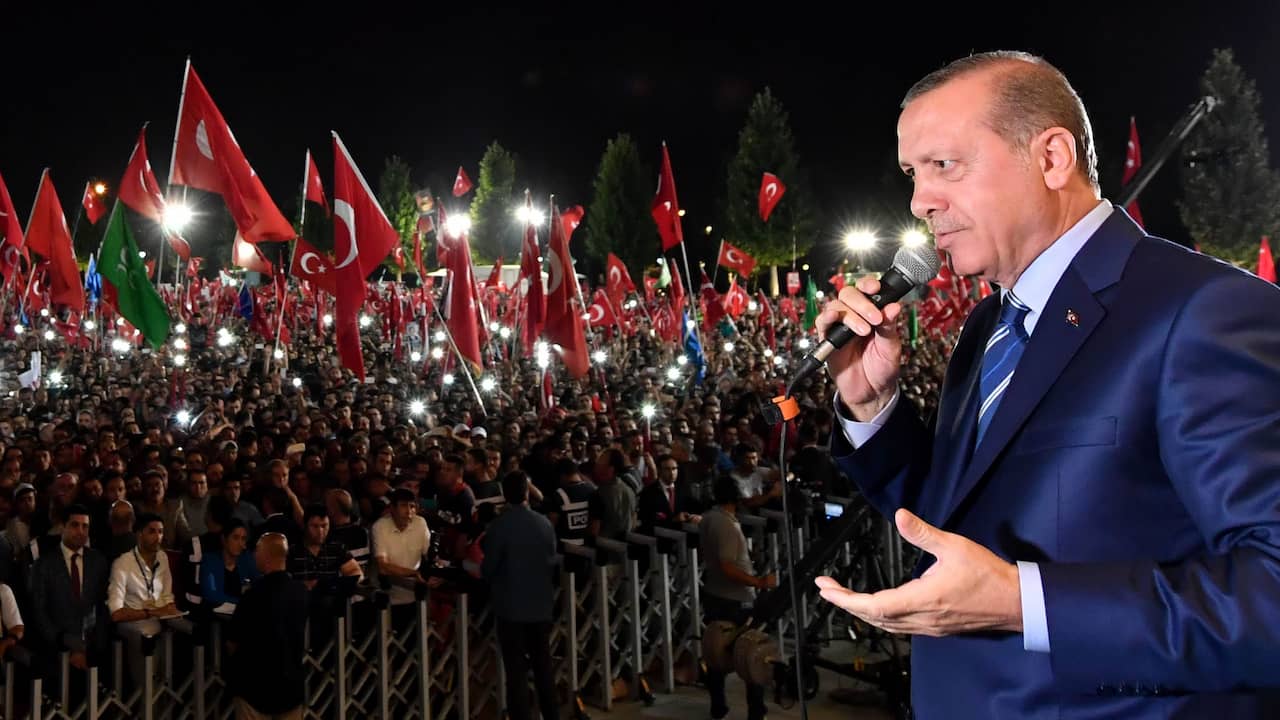 122
Failed coup in Turkey one year ago: This is what happened
After the coup
Since the coup, and a lot has happened in Turkey: 150,000 people (whether or not temporarily) fired and more than 50,000 people are stuck because of alleged involvement in the coup. According to critics inside and outside Turkey include the dismissals and arrests to attempt to dissidents to silence.
Also has Erdogan since april this year, more power, due to 51.4 percent of the vote in a Turkish referendum for a constitutional amendment was that this was to be managed.
On July 15, 2016 tried soldiers to seize power in Turkey. That failed partly because of Erdogan's supporters after a call from the president to the street went. 15 July in Turkey, declared a national holiday.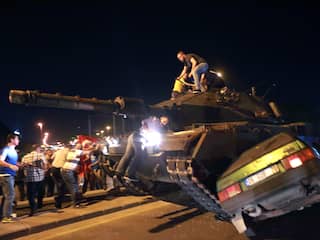 See also:
In retrospect: The failed coup d'état in Turkey