Erdogan promises to reintroduce the death penalty in the case of yes-vote referendum
Photo: AFP
The Turkish president Erdogan is pressing for the reintroduction of the death penalty if the Turks vote yes in the referendum on the constitutional amendment. That's what he said Friday at the announcement of the date of the historical referendum.
If the amendment is adopted, Erdogan significantly more power and privileges.
According to critics, the change will ensure that there is no counter-balanced for the power of the president. Erdogan says that he is more powerful need for stability and security.
A yes-vote means according to Erdogan, also a vote for the death penalty. "How can we use the blood of our soldiers and policemen ongewraakt?", the president.
Vice-president
The referendum is formally only about the expansion of the power of the Turkish president. At ratification, he can presidential orders, unsubscribe, emergency rule promulgation, personally ministers to appoint and to dissolve parliament. Also disappears the post of prime minister and a vice-president.
According to the latest polls, the for – and the opponents of the constitutional amendment at this time is approximately equal to, reports Al Jazeera.
Presidentstermijn
If the grondwetswijzing is made, the machtsuitbreiding of the president after the national and presidential elections in november 2019 to be held in force. By a change of the presidentstermijn can Erdogan then potentially to 2029 to stay in power.
The Turkish parliament voted on 21 January in the referendum. In Turkey is still in a state of emergency after the failed coup in July 2016.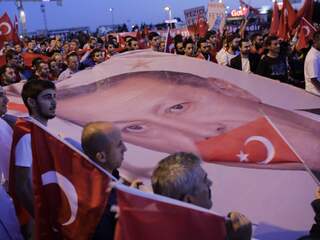 See also:
Erdogan: Of celebrated democrat to the feared tyrant