to connectVideoFox News Flash, important news, for Sept. 24
Fox News Flash, important news, for Sept. 24, are here. Check out what to click on Foxnews.com
Carnivorous dinosaurs are considered to be the history's largest predators, but a new study suggests that the herbivorous animals were living in fear of a 30-foot crocodile-like creature up to 210 million years ago.
Paleontologists have unearthed fossils of teeth, jaws, and limb of rauisuchians found in south Africa. After reading them, it has been seen that the older hunters were eating in the beginning of the discovery of the dinosaurs and their animal family members.
"Those old fossils provide us with evidence of how at least two of the predator and the species being hunted, this vegetarian dinosaurs 210 million years ago," said Rick, Tolchard, a Wits University masters student, said in a statement. "It's great to follow the clues left in fossils of teeth, jaws, limbs, and other fossils to help us tell the ancient story of life in south Africa."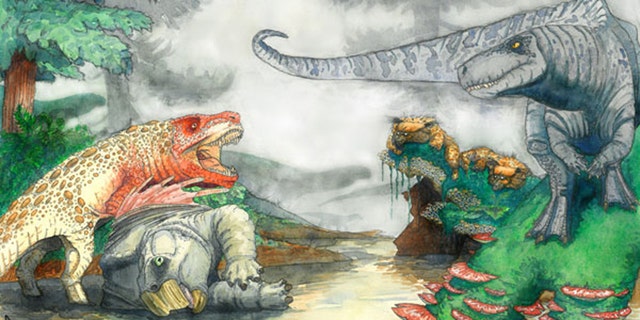 (Credit: University of the Witwatersrand)
THE 66-MILLION-YEAR-OLD-SEA-MONSTER HAD AN UNFAIR ADVANTAGE: THE SWIM IS IN CONTRAST TO SOMETHING ELSE."
Rauisuchians, which became extinct at the end of the Triassic period, and grew to be 30 feet long, and it was a large skull full of jagged, angled teeth," the statement added.
Tolchard, who is studying fossils from different collections all over the world, adding that these reptiles were to become widespread.
"In the Triassic period, the rauisuchians were widespread, and their fossils are known from every continent except Antarctica," he said. "They went extinct about 200 million years ago, paving the way for the dinosaurs to become the dominant large land animals."
The study is published in the Journal of African Earth Sciences.
CLICK HERE TO VIEW THE FOX NEWS APP